OTB Caption Contest Winners
The Last Laugh Edition OTB Caption ContestTM is now over.
The Last Laugh Edition OTB Caption ContestTM is now over.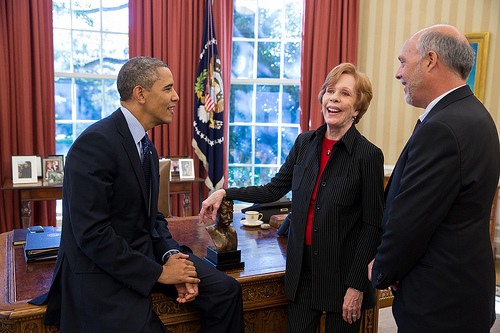 (Official White House Photo by Pete Souza)

✰ THE WINNERS ✰
First: Robert W. Armijo – "So, Carol, what do you think you could make out of these curtains?" "Oh, I don't know. A better healthcare website?"

Second: He who must not be named – So that's how you get in the Batcave.

Third: OzarkHillbilly – "Hey, You wanna see something funny? Push this button here and watch what happens to Boehner."
HONORABLE MENTION
Rick Almeida – "No, seriously. If you tilt Stalin's head back, there's a red switch that opens the secret passageway to my real office in the Kremlin."

Devildog666 – Don't you just love the national healthcare hot line number.

al-Ameda – "Hey, the bug is in plain sight!"

john425 – President Obama to Carol: "…and then I told them that they could keep their health plan. Period"

peacewood – "Hey Carol, let me tell you MY story about f***ing an Elephant."

Dave Schuler – Pull my finger.
ℛODNEY'S BOTTOM OF THE BARREL
Barry: "…and they thought they'd really get to keep their health care plans."
Carol: "…I still can't stop laughing."

"…and Carol, I'd like to make you the replacement for Sebelius."
"Only if I get Tim Conway and Harvey Korman to help me."

"Thanks for the bust, Carol."
"Pervert!"
The Thursday Contest has already denied health care to the frog and pig.