OTB Caption Contest Winners
The Eats, Shoots and Leaves Edition OTB Caption ContestTM is now over.
The Eats, Shoots and Leaves Edition OTB Caption ContestTM is now over.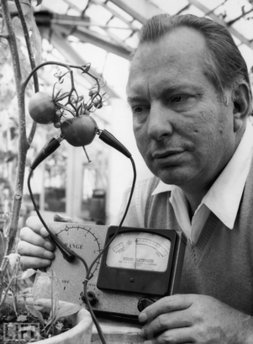 ✰ THE WINNERS ✰
First: Duane – You say "tomato," I say possible source of alternative energy research funding.

Second: John Burgess – Farmville: Geek Mode

Third: Fog – Where is Bean Laden! Tell me!
HONORABLE MENTION
Jay Tea – "Tell me, Clarice… do you still hear the screaming of the tomatoes?"

Robert W. Armijo – It is a little known fact that L. Ron Hubbard in addition to his works of fiction and founder of Scientology also invented the first juice extractor.

Johnny Utica – Pictured: dangerous, mutated vegetable created during failed lab experiment. Also pictured: a tomato.

FormerHostage – You should see what he does to his zucchini!

charles austin – Like you've never measured the impedance of fruit.

Kevin Whalen – After getting laid off from the S&M dungeon I decided to try my hand at farming.
ℛODNEY'S BOTTOM OF THE BARREL
At least this contest hasn't gotten corny yet

Though Usama had been mostly buried at sea, through the magic of science his testicles were kept alive and tortured by the CIA elite for decades.

We only have 20 seconds MacGruber.

May the sauce be with you,

220, 221, Whatever it takes.

Other spiritual offerings from the L. Ron Hubbard Agricultural Institute.
Jebus Rice, Supercarb
Holy Shittake Mushrooms
Got Yam-it
The Monday Contest has already joined the crusades.