OTB Caption Contest Winners
The Nuthin' Yahoo Edition OTB Caption ContestTM is now over.
The Nuthin' Yahoo Edition OTB Caption ContestTM is now over.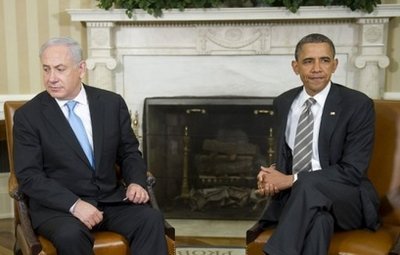 ✰ THE WINNERS ✰
First: charles austin – "Hey Daley, I didn't get a harumph from this guy."

Second: John Burgess – "F*ck you." "Yeah, f*ck you, too."

Third: FormerHostage – Awkward moment after Bibi asks Obama why Israel's border is more important to the President than the US southern border.
HONORABLE MENTION
Maggie Mama – Bibi whispering under his breath, "You wouldn't say this $hit if Rahm still worked in the White House."

Robert W. Armijo – "No, listen. I'd love to write you a blank check like always…Only, um, we're not so sure it will clear this time."

FormerHostage – ♪ You've lost….that lovin' feelin'….oh oh…that lovin' feeeeelin…♪

Neil Hudelson – I'm sorry, I…I shouldn't have eaten so much broccoli.

Kevin Whalen – "This new rug sucks, tacky, tacky, tacky. I liked the office better when it had its 2004 border, and occupant."

Have a nice G.A. – Flash kegger time?
ℛODNEY'S BOTTOM OF THE BARREL
Reading the teleprompter from opposite directions, they clunked heads in the middle, the closest they'd come to a meeting of the minds.

"So did you give Texas and California back to the Mexicans yet?"
"Not yet, but I'm still working on it."

Bibi: "If you worked for Mel Brooks we wouldn't have this problem."
The Thursday Contest is already under the bus.