OTB Caption Contest Winners
The Double Trouble Edition OTB Caption ContestTM is now over.
The Double Trouble Edition OTB Caption ContestTM is now over.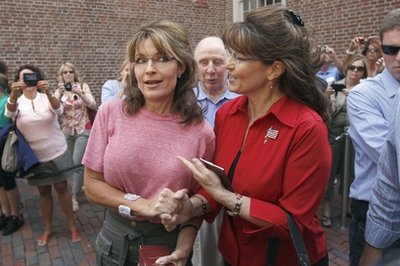 ✰ THE WINNERS ✰
First: Stormy Dragon – Invasion of the Party Snatchers

Second: Jay Tea – While Todd goes fishin', Sarah tries fission.

Third: Chadzilla – I'm with stupid.
HONORABLE MENTION
charles austin – "Which one is Sarah Palin?" "I don't know, Alaska."

FormerHostage – That's quite a pair! And the other woman is nice also.

Drew – Me too, I don't care about the details. Have you seen those Paul Revere photos? Hot!

Richard S – Only her hair dresser gives a shit.

ponce – One if by land…

Doug – "The cylons were created by man. They evolved. They rebelled. There are many copies. And they have a plan." (Sorry J., Not that big a BSG fan since the original – rodney)
ℛODNEY'S BOTTOM OF THE BARREL
Charlie Sheen: "Twinning, Duh!"

"Pull your finger."

Some Palin comparison.

"Schlemiel, Schlimazel…"

How can you be in two places at once, when you aren't anywhere at all.

"You look fantastic." "Thank you, you're two kind."

As with a xerox, the copy is never as brilliant as the original, and the clone turned out to be sort of a dip, by happy chance though the copy still garnered some sympathetic support and pity from all she met. Just another case of Sarah an' dip, pity.
The Thursday Contest is already to take another whack at it.