OTB Caption Contest Winners
The The Rathaus Pack Edition OTB Caption ContestTM is now over.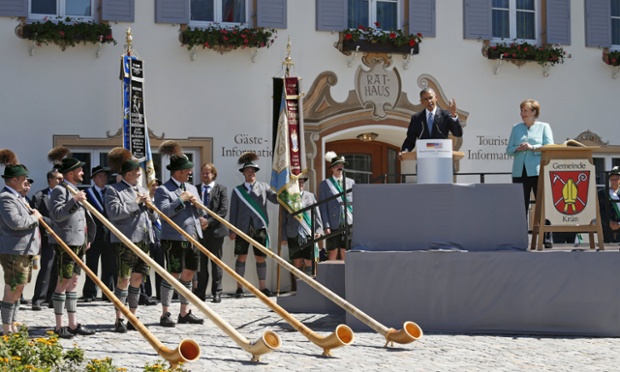 Kevin Lamarque/Reuters

✰ THE WINNERS ✰
First: Eric – Swiss marijuana legalization had some unforeseen consequences.

Second: Franklin – They warned us that Obama was the Antichrist. And sure enough, there are the Four Hornsmen of the Apocalypse!

Third: Tony W – Obama then advised them to go ahead and inhale.
HONORABLE MENTION
Mu – The Republican response to Obama's "state of the G7 nations" speech was unorthodox.

Doug Mataconis – "Okay guys. On the count of three, you're gonna blow those horns while I yell "Ricola!"

RockThisTown – In front of a Rathaus . . . . hmmmm, seems apropos.

Pinky – The President's sign language interpreters are getting weirder every time.

al-Ameda – … in America we call them 'crack pipes'

OzarkHillbilly – "Can you guys play 'A taste of Honey'? I really like that one."( I'm more partial to 'The Tijuana Taxi' – rodney)

CaptMorgan – Obama meets the German Choom Gang.

Paul Hooson – "I"ll take Big Horns And Accordions For $100, Alex" "What are instruments invented by White guys…"
ℛODNEY'S BOTTOM OF THE BARREL
Didgeridon't

'…and the winner of this year's Prophet Muhammad Lookalike Contest is…'

"Everything they play sounds like Louie louie"

"Sorry, 15 Schnitzengruben is my limit."

"Release the Kraken!"

"We've got trouble, right here in River City"