OTB Caption Contest Winners
The Petite Filet Mignon Edition OTB Caption ContestTM is now over.
The Petite Filet Mignon Edition OTB Caption ContestTM is now over.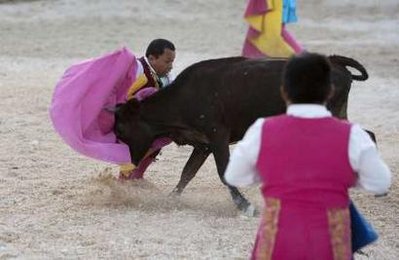 ✰ THE WINNERS ✰
First: physics geek – You realize, of course, that this means war.

Second: Drew – With the NFL lockout still on, attempts to organize non-santioned lineman drills have had some problems.

Third: Maggie Mama – Charlie's remaining goddess moved out leaving him searching for new amusements.
HONORABLE MENTION
Stormy Dragon – "I'm sorry, I really don't know any Mexican" "That's alright, I know a little Mexican. He's sitting over there." (RIMSHOT – rodney)

markm – In yet another visible fracture from within the Democratic party, Barack Obama takes one from Al Gore for his failure to act on ClimateChangey.

Drekkoth – Hugo Chavez's ill conceived disguise backfires…

Drew – Look, Elsie, we've got to dry you off after your bath…"

John Burgess – This is absolutely the last time I'm letting Michelle dress me!

Peterh – That's just a mild goring compared to what your 401k will look like after a credit default
ℛODNEY'S BOTTOM OF THE BARREL
With these horns, if you don't C-Sharp you'll B-flat.

Auditions for 2 and a 1/2 Men.

Great horny toads bulls.

It was inevitable that eventually dwarf tossing and bull fighting would be combined.

Everytime you beat the bull you have one 'Dislike' vote removed.
The Thursday Contest is already counting down to the return of the OTB Caption Contest.