OTB Caption Contest Winners
The Just A Minaret Edition OTB Caption ContestTM is now over.
The Just A Minaret Edition OTB Caption ContestTM is now over.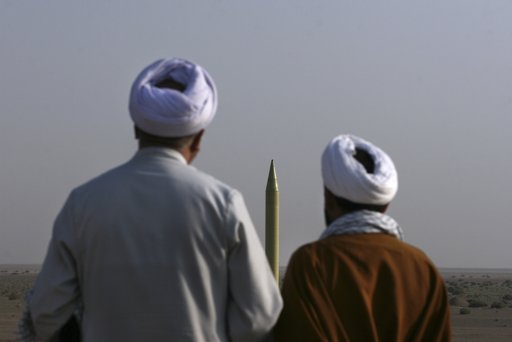 ✰ THE WINNERS ✰
First: John Burgess – "There's something not quite right about that minaret. Give me a minute and I'll figure it out…"

Second: Maggie Mama – Yup, I'm positive that's Anthony Weiner; I've seen all the pix of him on-line.

Third: Robert W. Armijo – "Okay, Omar. You drew the short stick. Now go light the fuse."
HONORABLE MENTION
Jay Tea – "It might seem like a blessing from Allah, Abdul, but it's been four hours. You really ought to see a doctor. And make sure it's one of those kaffir doctors — a Jewish one, if you can."

Herb – Now what?

John425 – One Mullah to Another: " See, I told you so…that Ahmadinejad is a big prick."

Michael Hamm – How do I strap this thing on? (No sheep will be save tonight – rodney)

charles austin – Let's face it, penis envy can explain an awful lot.

physics geek – "Oh Achmed, I'll make you bark like a dog."
ℛODNEY'S BOTTOM OF THE BARREL
Now all we need is the illudium pu-38 explosive space modulator.

"So what do you want to do tonight, Mahmoud."
"Same thing we do everynight, Pinky. Try and take over the world."

"Say, isn't that Slim Pickens over there?"

"How 'bout a game of 'Musical Spikes,' Muhammad?"
The Thursday Contest already has a foursome for the next golf outing.