OTB Caption Contest Winners
The Straw Boss Edition OTB Caption ContestTM is now over.
The Straw Boss Edition OTB Caption ContestTM is now over.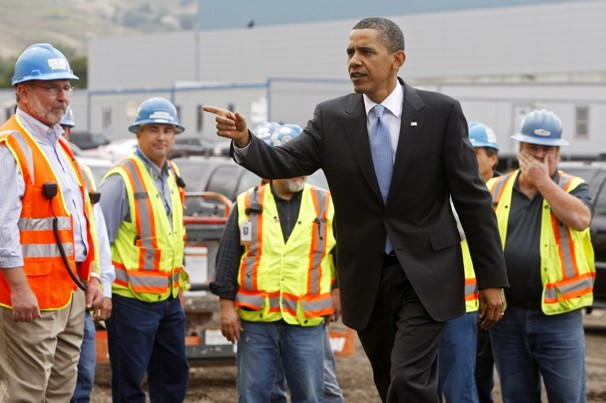 ✰ THE WINNERS ✰
First: markm – Obama: "Keep up the good work guys….hey, are you a created or a saved?".

Second: HolyJuan – I need you boys to fill in that John Boehner sized hole over there.

Third(tie): Rock – So that's what a shovel looks like!

Third(tie): Gollum – Uncle Bam wants YOU
HONORABLE MENTION
Jay Tea – "Guys, are you sure this project's shovel-ready?"

Stormy Dragon– "I don't care if you've hit the bottom, keep digging!"

Maggie Mama – Forget Congress; do any of you guys know how to raise a debt ceiling?

charles austin – Yes, I know this is a safety vest and hard hat area. What's your point?

Michael – For the love of God, do not pull his finger!

Michael Listner – Everyone needs to pay their fair share; we all need to make sacrifices. So, as your President I am telling you to give me that doughnut.

Mr. Prosser – I knew they shouldn't have let Allen West drive that car. C'mon guys now we have to get their sorry selves out of the ditch.
ℛODNEY'S BOTTOM OF THE BARREL
"… the ninth green, needs to be an island green, and put the first tee over there and…"

Hey you, did you eat your peas?

"OK, your jobs are safe until after 2012"
The Monday Contest is already on the rocks.