OTB Caption Contest Winners
The Bull Pulpit Edition OTB Caption ContestTM is now over.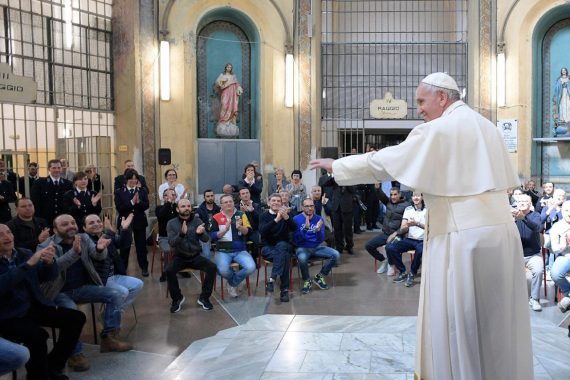 (Photo: L'Osservatore Romano/AP)

✰ THE WINNERS ✰
First: Franklin – Welcome to the Holy C Block!

Second: al-Alameda – "So I said to Donald, 'eff the meatloaf, I'll have the Risotto alla Milanese."

Third: Paul Hooson – "Well, the first Easter was pretty amazing when the stone rolled away. But, the second one when only the Easter Bunny showed up with those "Peeps" and chocolate eggs, not so much…".
HONORABLE MENTION
RockThisTown – Lighten up, Francis.

Tyrell – "And that's how we turn water into wine. Any more questions ?"

Hal_10000 – "You get forgiven! You get forgiven! You get forgiven! EVERYBODY GETS FORGIVEN!"

Gobsmacked – Wingardium leviosa!

DrDaveT – "Let's see… and then you put your left hand in and you shake it all about? Do I have this right?"

iSeeDumpPeople – "All are welcome here. All. Except you. You're fundamentally disordered."

Franklin – So nice to see all you former priests again! ("Any of you seen my Altar Boy… about this tall…" — rodney)

ℛODNEY'S BOTTOM OF THE BARREL
"Pull my finger."

"I didn't get a Harumph from that guy."

"Stay for our Heavenly Buffet…featuring Leg-O-Lamb of God, Holy Shittake Mushrooms, God Yammit – Yams, and Jebus Rice (supercarb)."