OTB Caption Contest Winners
The Blue Man Dupe Edition OTB Caption ContestTM is now over.
The Blue Man Dupe Edition OTB Caption ContestTM is now over.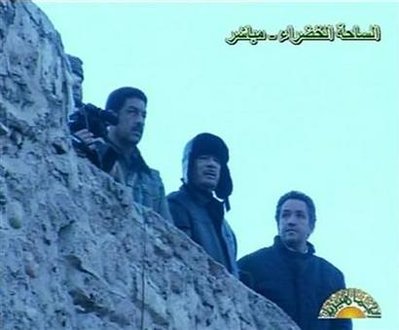 REUTERS/Libya TV via Reuters TV

✰ THE WINNERS ✰
First(tie): charles austin – Excuse me boys, it's 3 AM in Washington and I have a phone call to make.

First(tie): Eddie – You guys hear about Charlie Sheen? Dude's gone crazy! It must suck to be insane. Yes, yes release the attack copters.

Second: JKB – Gadaffi: I am wearing this hat because I am one with my brothers and sisters in Wisconsin

Third: Maggie Mama – Nah, we have nothing to worry about from Obama; he'll be 'monitoring' the situation for at least another six weeks.
HONORABLE MENTION
JazzShaw – Yes! Reminds me of when my brothers and I would build play forts as children. Good times. Of course, I eventually had to have them executed as well.

Aaron Gee – People of Libya, this hat belonged to Adonis & I have tigerblood running through my veins that is why you love me.

Neil Hudelson – I fart in your general direction!

Lady Logician – Now go away or I shall taunt you a SECOND time…

Michael Hamm – Do you like my hat? I think it makes me look sexy.

Robert W. Armijo – "Have my mercenaries from Wisconsin arrived yet? Good. Now we'll see how this rebel scum handles an Imperial (Gov. Scott) Walker."
ℛODNEY'S BOTTOM OF THE BARREL
"OK, How 'bout camels with frickin' lasers on their heads…."

"You don't frighten us, English Pig Dog."

"I have this sudden urge to go ice fishing, and I don't even know what that is, ya der hey."

"Are our plans to invade Escanaba all set."
The Monday Contest is ready for a Livingston Saturday Night.