OTB Caption Contest Winners
The Three Hour Tour Edition OTB Caption ContestTM is now over.
The Three Hour Tour Edition OTB Caption ContestTM is now over.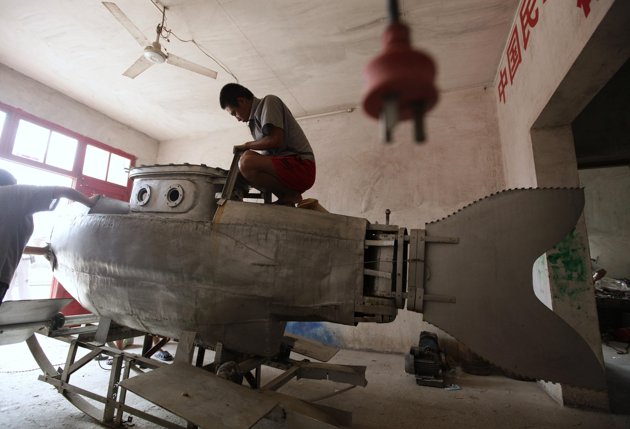 ✰ THE WINNERS ✰
First: charles austin – The Hunt for Lead October

Second: Cowboy Blob – Making of the low-budget Bond film "Octopussy II" was slowed when villainess Margaret Cho had trouble squeezing into the entry hatch of her submarine.

Third: R.E. Davidson – We know it isn't a government funded project because it looks like it might actually work.
HONORABLE MENTION
Robert W. Armijo – A dedicated father builds his own miniature submarine to continue the search for his son, who he threw overboard a harbor tour boat the week before.

OzarkHillbilly – Hugo Chavez's latest upgrade to the Venezualan Navy. "If the US tries to invade us, we will have the means to stop them." the fearless leader said.

Adam – Passenger invents alternative mode of travel to avoid TSA harassment. "Totally worth the discomfort and 3 mile-an-hour speed," he boasts.

John425 – Obama aquanauts ready to plumb the depths of fiscal mess.

Maggie Mama – Oh, no, looks like she's done it again. Secretary of Labor Hilda Solis ordered a personal-use submarine which clearly is not being built in the USA.

JKB – Disney is concerned over the growing Chinese submarine threat. The US Navy, not so much.
ℛODNEY'S BOTTOM OF THE BARREL
Tinfoil hats ain't got nuthin' on tinfoil enclosures.

Just one phrase – "EMERGENCY BLOW" – and Bill Clinton ordered one.

"No I said I wanted to order underwater MINES, not underwater MIMES."

Edgar got off easy after he showed his date's father that there really were submarine races down by the lake.
The Thursday Contest has already resorted to asking for directions…