OTB Caption Contest Winners
The Troy Ploy Edition OTB Caption ContestTM is now over.
The Troy Ploy Edition OTB Caption ContestTM is now over.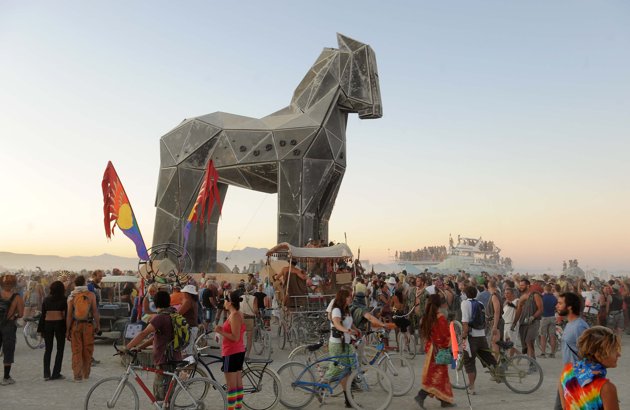 (AP Photo/Reno Gazette-Journal, Andy Barron)

There hasn't been a tie for First for a while, but this contest generated a lot of good creative captions. Go read them all if you have time.
✰ THE WINNERS ✰
First: jd – We're gonna need a bigger shovel.

Second: OzarkHillbilly – The Tea Party has a plan for the GOP convention next August…

Third: charles austin – Ah, the solution to the Greek financial troubles has arrived!
HONORABLE MENTION
Doug Mataconis – The gift, while appreciated by the crowd, raised some suspicions.

Peterh – The Rick Perry candidacy in a snapshot…

Jay Tea – "Typical Obama. He keeps saying 'pass this bill' over and over in his big speech, but he doesn't even bother to write up a bill… what, it's here? About damned time!"

FormerHostage – We couldn't find a badger.

Robert W. Armijo – Now that they successfully penetrated the Burning Man Festival, all that was left for the undercover narks to do was wait for nightfall to make their next move.

John425 – Slightly behind schedule-Solyndra Corp. executives unveil Thank You gift for Obama Adminstration officials who gave them a loan.
ℛODNEY'S BOTTOM OF THE BARREL
Al Gore prepares the ultimate Global Warming argument.

A horse is a horse, of course, of course…
The Thursday Contest has already refudiated its argument.