OTB Caption Contest Winners
The Adult Swim Edition OTB Caption ContestTM is now over.
The Adult Swim Edition OTB Caption ContestTM is now over.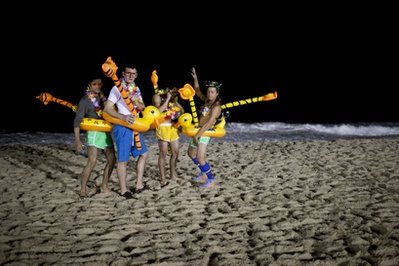 ✰ THE WINNERS ✰
First: John Burgess – Wisconsin Democratic Senators sighted on Florida beach. Destination unclear.

Second: JazzShaw – While claiming he was still in control of his country, Gaddafi quietly prepared an escape route.

Third: John425 – Security beachguard: " Sorry guys, the Jimmy Buffett concert was last night!"
HONORABLE MENTION
Michael Tiller – Imagine how different things would be if Buddy Holly's fateful trip was by boat. (That'll Be The Day – rodney)

Maggie Mama – Sometimes what happens in Vegas washes up on the shores of Lake Mead

charles austin – Come on Mr. Moore, the Cuban workers' paradise is only 90 miles away!

Michael Hamm – Hey, have you seen my duckie?

Drew – ..after finishing, all member's of Obama's energy policy task force agreed the 'get close to the issue' meeting venue was a bitchn' success….

JazzShaw – "Screw the Discovery Channel. I don't think there are really any sea turtles here at all."
ℛODNEY'S BOTTOM OF THE BARREL
"Charlie tweeted to be ready for a Tiger's Flood and here we are."

NPR Brain Trust

Just another Livingston Saturday night

Lake Wobegon Polar Bear Club – Post global warming era.

The drug known as "Charlie Sheen" is already starting to have an adverse effect on the populace.
The Thursday Contest has already outsourced its security forces