OTB Caption Contest Winners
The I WON Edition OTB Caption ContestTM is now over.
The I WON Edition OTB Caption ContestTM is now over.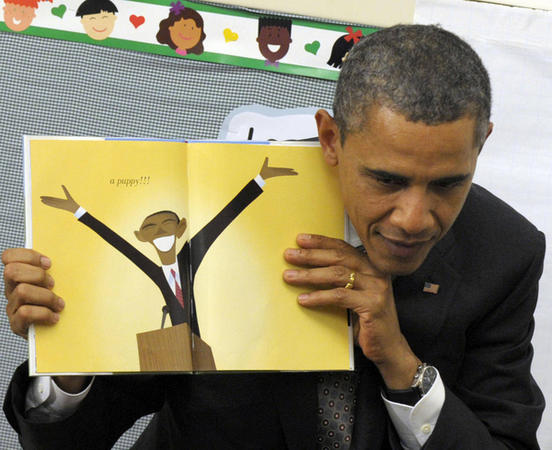 ✰ THE WINNERS ✰
First: physics geek – "I like me here and there. I like me most anywhere."

Second: charles austin – Page 3-4: a pony!!! Page 5-6:a unicorn!!! Page 7-8: a job!!! Page 9-10: … I killed bin Laden!!!

Third(tie): Moderate Mom – Pass my Jobs Bill and you get……a puppy! But not a job.

Third(tie): NickNot – So, in conclusion, you each owe about $136,000 for your new puppy.
HONORABLE MENTION
Robert W. Armijo – "Of course, I owe half of my success to Mr. Teleprompter."

Neil Hudelson – You see this? You see this? I'm in a book, asshole. Oh, you got a gold star on your spelling exam? I'm. In. A. Book.

John Burgess – "What goat? I don't see any goat!"

JKB – "Dreams of My Presidency" – the Decider episode

steve – "And this kids, was the high point of my time in office."

Maggie Mama – At first Obama was very excited about Bo but then he found out you could not walk dogs on putting greens.
ℛODNEY'S BOTTOM OF THE BARREL
President reads "My Pet Gloat" to members of Congress

While Tens of thousands um… thousands er… hundreds uh… dozens march on Wall Street, President Obama reads to grade schoolers

"Cheney wrote his book, and I wrote mine."

Dreams of my Fatwa

"I'll tax you my sweetie, and your little doggie too."
The Monday Contest is already taking Government Motors for a spin.