OTB Caption Contest Winners
The Clintonesque Edition OTB Caption ContestTM is now over.
The Clintonesque Edition OTB Caption ContestTM is now over.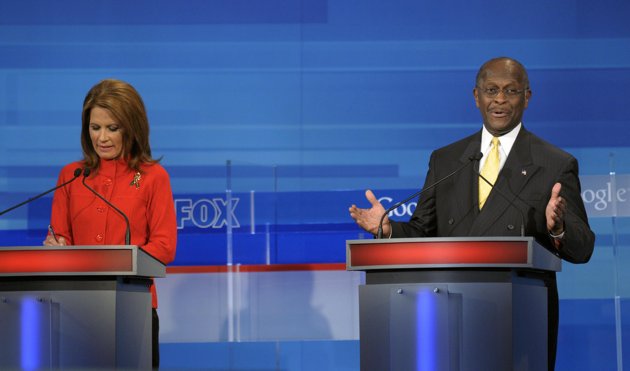 ✰ THE WINNERS ✰
First: charles austin – Cain ogles the Fox. (I noticed this just as I was posting it on the 3rd, but not when I picked the photo. – rodney)

Second: MstrB- No, thank you. Fifteen is my limit on schnitzengruben.

Third(tie): Jim Recznik – I don't know what you are thinking….I'm talking about a fish!

Third(tie): Doug Mataconis – Michele, I've been a fan of yours ever since I saw that picture of you with the corn dog. I think it was this long, right?
HONORABLE MENTION
OzarkHillbilly – "I did not have sexual relations with that woman."

Maggie Mama – It's about this long so I don't have to go chasin' women; they come chasin' me!

ponce – All I said to her was "Five Dollar Foot Long."

David – I'm going to be a contender for this long.

NickNot – Fix the economy, hell, I sold pizzas this big for 9.99!

Robert W. Armijo – Michele Tweets: "Ouch! For some unknown reason, my ass is sorer than usual this campaign season."
ℛODNEY'S BOTTOM OF THE BARREL
Hey it's the cameramans fault that I'm gonna OGLE that FOX

All I said was, Hey would someone get that women a corndog, she looked hungry, what's wrong with that?

Michelle: SEXIST!
Herman: RACIST!

This long baby.

Well, I'll show ya what one of the 9's stands for.

Excuse me while I whip this out.
The Tuesday Contest was hoping for a harp in heaven.