OTB Caption Contest Winners
The Mongo Like Ghandi Edition OTB Caption ContestTM is now over.
The Mongo Like Ghandi Edition OTB Caption ContestTM is now over.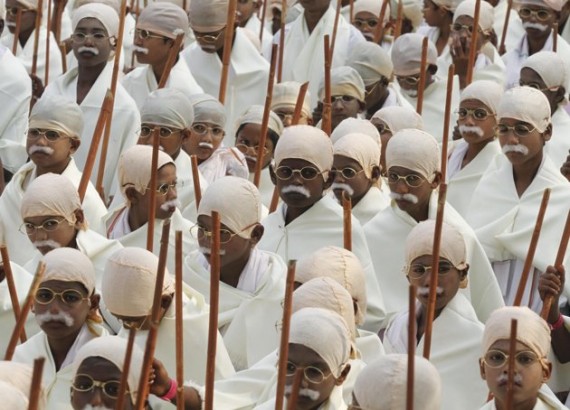 A lot of good captions for this picture, its worth checking them all. Here are the winners…
✰ THE WINNERS ✰
First: PeterOly – "I think we better get indoors. The Sand People are easily startled but they'll soon be back, and in greater numbers."

Second: Peterh – Auditions for the Indian version of "What's My Line" is about to get very monotonous…

Third: Alan Bourdius – It will take more than just the 'stache to win this year's John Bolton Look-Alike contest.
HONORABLE MENTION
Hibernian Hillbilly – In a touching ceremony, Wes Welker's moustache,is laid to rest.

Jazz Shaw – The fallout from Newt's plan to have children work as janitors continues.

Michael Hamm – Hindu's come prepared for the Mexican Pinata party.

John425 – Lunch break for US manufacturer's Call Center employees.

Maggie Mama – Typical liberal: Calling me a racist because I made the off-hand remark that "they all look alike to me".

LorgSkyegon – Despite the popularity of the "Where's Waldo?" series, India's attempt at a "Where's Gandhi?" was deemed far too easy.
ℛODNEY'S BOTTOM OF THE BARREL
In the line at the Burger King, orders were rather monotonous, "Make me one with everything, please."

In an unprecedented act of generosity Donald Trump donated his hair, providing 'staches to hundreds of the indigent.

the solemnity of the Ghandi event aside, boys will be boys. It only took one "Do or do not, there is no try," and they were all yodas with light sabers.

When the First Lady, who misread the memo, showed up as Condi, all hell broke loose.
The Thursday Contest is already really pumped up.