OTB Caption Contest Winners
The Love You Long Time Edition OTB Caption ContestTM is now over.
The Love You Long Time Edition OTB Caption ContestTM is now over.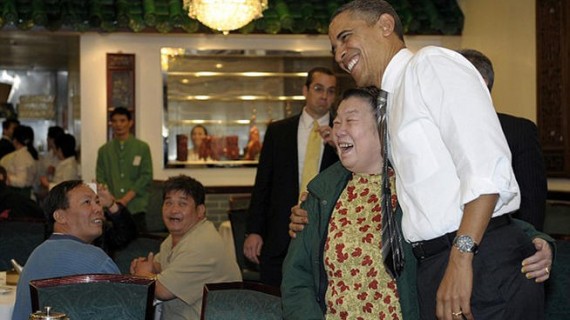 ✰ THE WINNERS ✰
First: Kevin Whalen – Inteviewed after the photo, lady says "He's not bad, but I was kinda hoping to meet Jeremy Lin"

Second: Doug Mataconis – ..and that was the last time the President ever left the nuclear launch codes in his back pocket ever again.

Third: Jazz Shaw – Bob's hopes sank as he realized his snazzy yellow tie wasn't going to get him a photo op with the president.
HONORABLE MENTION
Gollum – When Lien Ling said she would grab the Puu Puu Platter for Mr. President she wasn't kidding.

John425 – Asian woman sneaks past Secret Service proving that there is a chink in the armor.

Peterh – Hey….someone give the Pres a cigar….cuz we're gonna take this to the next level……

Drew – A little of Mamas mooshoo pork and we fatten up your skinny little arse.

Tillman – The Secret Service: We protect your life, not your dignity.

Maggie Mama – Eating Bulgogi Bāozi' is obviously putting just a little too much pork on Obama's buns; but then Obama and too much pork just seem to go together.
ℛODNEY'S BOTTOM OF THE BARREL
I will employ the use my Bran Kung Fu to defeat you…

"Squishy… like overcooked rice."

"Biden was wrong, he's not a hardass at all!"

Well of course we'll throw puu puu at him.

Damn its bein' good to feel a gangsta.
The Thursday Contest already off to the races.