Pabst Blue Ribbon PBR 1844
PBR is going upscale for the Chinese market.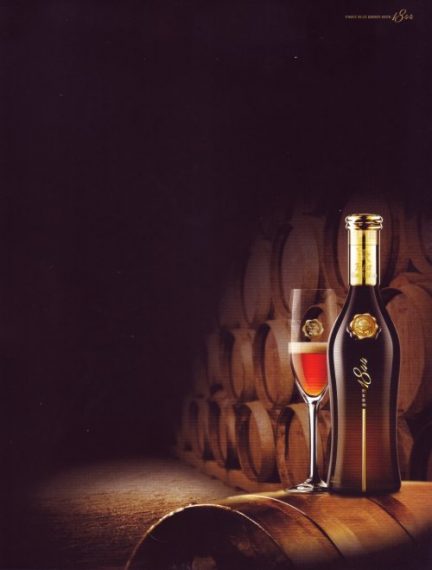 A blue collar beer is going upmarket, Joel Martinsen reports for Daiwei.
1844 was the year that the Pabst Brewing Company was established in Milwaukee, Wisconsin. In the US, the beer's lack of pretension led to a recent upswing in popularity among hipsters.

With 1844, the brand seems to be targeting a different demographic in the Chinese market.

The ad copy (on the facing page) begins with comparisons to the finest of alcohols:

It's not just Scotch that's put into wooden casks. There's also Pabst Blue Ribbon Beer 1844

Many world-famous spirits
Are matured in precious wooden casks
Scotch whisky, French brand, Bordeaux wine…
They all spend long days inside wooden casks

It goes on to describe how the premium wood and craftsmanship of the casks creates the beer's wondrous color and flavor, and ends by calling Pabst "truly a treasure among beers."
Marketing is everything, I suppose.