Pakistan Porn Search Leader
Pakistan is the world-wide leader in internet porn searches. And they have some strange tastes over there.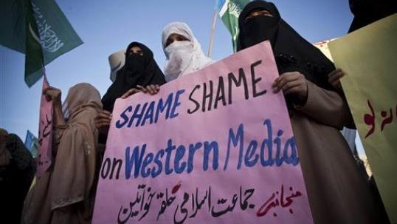 What happens when you combine Muslim culture with a large, educated populace?   Lots of porn searches, apparently.
They may call it the "Land of the Pure," but Pakistan turns out to be anything but.

The Muslim country, which has banned content on at least 17 websites to block offensive and blasphemous material, is the world's leader in online searches for pornographic material, FoxNews.com has learned.

"You won't find strip clubs in Islamic countries. Most Islamic countries have certain dress codes," said Gabriel Said Reynolds, professor of Islamic Studies at the University of Notre Dame. "It would be an irony if they haven't shown the same vigilance to pornography."

So here's the irony: Google ranks Pakistan No. 1 in the world in searches for pornographic terms, outranking every other country in the world in searches per person for certain sex-related content.  Pakistan is top dog in searches per-person for "horse sex" since 2004, "donkey sex" since 2007, "rape pictures" between 2004 and 2009, "rape sex" since 2004, "child sex" between 2004 and 2007 and since 2009, "animal sex" since 2004 and "dog sex" since 2005, according to Google Trends and Google Insights, features of Google that generate data based on popular search terms.  The country also is tops — or has been No. 1 — in searches for "sex," "camel sex," "rape video," "child sex video" and some other searches that can't be printed here.
Before recently falling into some strange Google black hole, OTB has long gotten a not insignificant amount of traffic from people looking for nude pictures of various celebrities.   Those landing here as a result are no doubt disappointed.   At any rate, it's no surprise to me that the Web's most ubiquitous use is surfing for porn.
And, while I'd not have guessed "Pakistan" if asked to name the number one per capita consumer of porn, it makes some sense.   I am, however, a bit puzzled at their leadership in various bestiality searches.   I'm not sure if that's some sort of South Asian fetish about which I don't care to know more or simply a function of somebody having to lead in those categories.