Palin As The GOP's 2016 Savior? In Your Dreams
Guess who's back?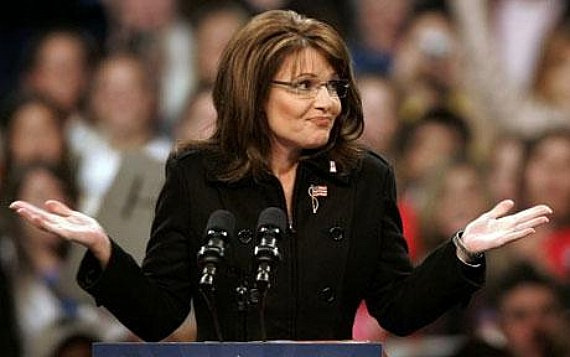 Charlotte Allen, in an Op-Ed at the Los Angeles Times, seems to think she's found the solution for Republicans despairing over the election results and wondering who can lead the party out of the wilderness in 2016:
The Republican Party has been doing a lot of hand-wringing and finger-pointing since the presidential election. Half the conservative columnists and bloggers say the GOP lost because it overemphasized social issues such as abortion and gay marriage. The other half says the party didn't emphasize them enough. And everyone denounces Project ORCA, the campaign's attempt to turn out voters via technology.

But I've got a suggestion for cutting short the GOP angst:Sarah Palin for president in 2016.

You think I'm joking? Think again.
I'm actually not surprised that there would be "Palin in `16" speculation. After all, a good bit of the time from the end of the 2008 race until the start of the 2012 GOP Primary Season was spent by political pundits on both sides of the political aisle wondering if Palin would through her hat in the ring. Every action on her part, every statement, every Facebook post, every Tweet was interpreted by those watching the matter closely as a "sign" of her intentions. For her part, Palin was quite obviously milking all of the attention that this speculation was bringing to her, and reveling in it. Indeed, it now seems quite apparent that one of the main reasons she dragged the speculation out as long as it did is because it was the main way she was able to stay in the media spotlight. When Palin decided to stage a bus tour of New England on the same day that Mitt Romney was announcing the opening of his campaign for the Presidency, her motives should have been readily apparently. If not then, then they sure should have been when she showed up at the Iowa State Fair on the eve of the highly publicized Ames Straw Poll, for no other reason than the fact that all of American political media was there at the same time. When she finally announced that she wasn't running, in a manner that royally pissed off her employer Roger Ailes, the media attention quickly melted way. Additionally, Palin herself seemed to lose all interest in the campaign. Indeed, although she did make primary appearances for candidates such as Ted Cruz in Texas, who won, and Sarah Steeleman in Missouri, who lost to Todd Akin, Palin didn't make a single campaign appearance during the General Election and didn't appear at the Republican National Convention. With the 2012 race decided, it's no surprise that we'd see a revival of the Palin brand as 2016 speculation starts up. After all, she needs something to do for the next four years, doesn't she?
Allen goes on to argue in favor of what she contends are the strengths that make Palin the perfect candidate for the GOP in 2012:
Palin can more than keep up with the Democrats in appealing to voters' emotions. Hardly anyone could be more blue collar than Palin, out on the fishing boat with her hunky blue-collar husband, Todd. Palin is "View"-ready, she's "Ellen"-ready, she's Kelly-and-Michael-ready.

A Palin "war against women"? Hah! Not only is she a woman, she's got a single-mom daughter, Bristol, to help with the swelling single-mom demographic. On social issues, Palin, unlike Romney, has been absolutely consistent. And let's remember that most Americans, whatever their view of choice, disapprove of most abortions.

Gay marriage? Palin opposes it. But she is also a strong advocate of states' rights, and I'm betting she'd be fine with letting states and their voters grapple with the issue on their own. Remember that all of America didn't swing toward approval of gay marriage on Nov. 6. Three reliably blue states and their voters did. If she were smart, Palin would recruit a member of her impressive gay fanboy base — yes, she has one — to help run her campaign. I nominate Kevin DuJan of the widely read gay conservative blog HillBuzz, a Palin stalwart since 2008.

Palin's son Track is an Iraq war veteran, so she can be proudly patriotic without being labeled another George W. Bush, looking to do aggressive nation-building. She seems aware there is only one nation in need of building right now: America.

Furthermore, looks count in politics, and Palin at age 48, has it all over her possible competition, including Hillary Rodham Clinton, who will be 69 by election day 2016 and who let someone talk her into adopting the flowing blond locks of a college student, making her look like Brunnhilde in a small-town Wagner production. Men love Sarah Palin, and she loves men.
I highlighted that last paragraph because it epitomizes the superficiality of Allen's entire argument. In the end, the argument for Palin has nothing to do with policy, it has nothing to do with competence (as if), and it has nothing to do with what she could bring to the country. It has to do with the same "starbursts" that National Review's Rich Lowry claimed to see when he met her for the first time. This is because Palin has no substance. Over the past four years, in her books, television appearances, and speeches, she has revealed herself to be a person with only a limited grasp on the issues who seems to think that speaking in sound bites constitutes in depth analysis, and her supporters just eat it up.
As for the rest of Allen's argument here, it's difficult to even take it seriously. Palin will win the "war on women" argument because Bristol was dumb enough to get pregnant at 17? If nothing else, that sounds to me like an argument against all those "abstinence" programs that social conservatives like Palin are so in favor of as opposed to teaching kids how they can really avoid getting pregnant.  "Gay fanboys" will overcome the fact that the growing LGBT vote, not to mention voters younger than 65, are coming to see the GOP's position on same-sex marriage, at the state and federal level,  to be outdated and bigoted? What kind of delusional bubble is Allen living in here? She wins the foreign policy debate because her son served in Iraq? That would be the most absurd argument of all if Allen had not ended this portion of her Op-Ed by essentially saying that Palin is qualified to be President because she's attractive. "Men love Sarah Palin, and she loves men." Those may be the eight most absurd words ever strung together in the Los Angeles Times in the paper's entire history.
Perhaps we should cut Allen some slack here. After all, she's arguing in favor of the candidacy of someone with an incredibly thin resume who has shown no evidence at all of being qualified to sit behind the Resolute Desk. In those types of situations, you go with what you have. I only hope for her own sake, that Allen actually made some money off of writing this thing because I'd hate to thing she pulled together this string of nonsense for free.
The truth about Palin in 2016 is the same as the truth about Palin in 2012. She may be popular with a particular segment of the Republican Party, but we know from polling history that the public as a whole views her incredibly negatively. Notwithstanding that she's been relatively silent over the past year or so, I seriously doubt that those opinions have changed very much. If she does decide at some point in the next four years to reinsert herself in the public debate, voters are going to be reminded of everything that they didn't like about her, and the arguments against her candidacy will come up all over again.
The Republican Party has quite an impressive bench of candidates for 2016 that ranges from Marco Rubio, to Chris Christie, to Scott Walker, Susana Martinez, Rand Paul, Kelly Ayotte, and, as a long shot that I'm putting in because I'd like to see him run, Tom Coburn. The idea that voters would select someone who has essentially done nothing for the past four years, and will continue to do nothing for the next four years, is fundamentally absurd. Sarah Palin and her acolytes will milk the 2016 speculation for all it's worth, but anyone who considers her a serious contender for the Republican nomination is deluding themselves.