Panetta: At Least Some Non-Combat Troops Will Remain In Iraq After 2011
Secretary of Defense Leon Panetta gave the strongest signal ever that there will be some U.S. military presence in Iraq after December 31st.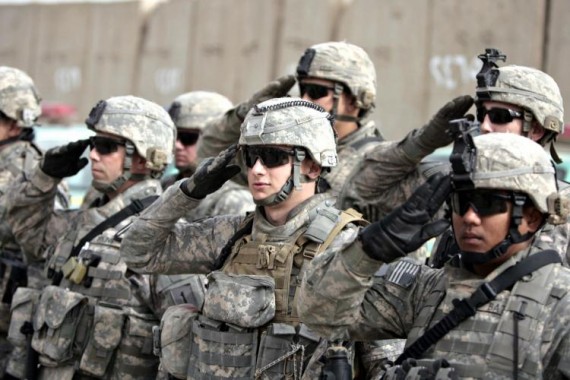 The current Status of Forces Agreement between the United States and Iraq calls for all American troops to be out of the country by December 31st, but the Obama Administration has been hinting to the Iraqis that they'd be willing to keep U.S. forces in the country past that date if the Iraqis want to agree to a new SOFA. Now, Secretary of Defense Leon Panetta is hinting that a deal to keep at least some Americans in Iraq past the end of year is all but a official:
WASHINGTON — Defense Secretary Leon Panetta said Friday that Iraq has agreed to negotiate an extension of noncombat U.S. forces there beyond 2011.

"My view is that they finally did say, 'Yes,' " he said during his first small-group press interview since taking office July 1. Panetta is the highest-ranking U.S. official to indicate this so clearly.

Six weeks ago, an exasperated Panetta urged Iraqi leaders to "Dammit, make a decision" about extending the U.S. troop presence beyond the scheduled Dec. 31 withdrawal.

Now, although Iraqi leaders have yet to make a formal request, Panetta said the Pentagon is moving forward, because there is unanimous consent among key Iraqi leaders to address U.S. demands.

Those demands include that Iraqis begin negotiating internally what type of U.S. training force they would like, begin a process to select a defense minister, craft a new Status of Forces Agreement and increase operations against Iranian-backed militants.

(…)

Pentagon press officials also sought to clarify Panetta's statement.

"The Secretary was asked if there had been progress in our discussions with the Iraqi government since his visit six weeks ago," Pentagon spokesman George Little said in a statement. "He made clear that the Iraqis have said yes to discussions about the strategic relationship beyond 2011, and what that relationship might look like."
For their part, the Iraqis are making clear that there is no agreement at this point:
Shortly after Panetta's interview hit the Internet, a spokesman for Iraqi Prime Minister Nouri al-Maliki told Agence-France Presse that no deal is in place.

"We have not yet agreed on the issue of keeping training forces," spokesman Ali Mussawi said. "The negotiations are ongoing, and these negotiations have not been finalized."
At the same time, Panetta made clear that extending the SOFA would not include an extension of American combat operations:
Panetta also said, according to the official transcript, that the Pentagon will abide by President Barack Obama's pledge to end U.S. military operations in Iraq.

"We have begun the drawdown, and we will continue the drawdown and we will fulfill the commitment that we are going to take all the combat forces out of Iraq," he said. "That's a commitment the president made to the country and I think he clearly wants to stand by that. The issue will then become what is the kind of training assistance and presence that Iraq feels it needs in order to be able to defend itself and secure itself."
What we're talking about here, then, isn't a continuation of the U.S. force presence in Iraq at the levels that they're at today, but some kind of training role for a smaller force of American troops, something that, for better or worse, we do in a wide variety of countries across the globe. Given that, I don't think it's fair to say that the Administration is backing down from the pledge that the President made in 2009 to have all combat forces out of Iraq by the end of 2011. Additionally, there's at least an argument that can be made that it wouldn't be a bad idea to continue training the Iraqi Army so that the country can defend itself.
Of course, Iraq isn't just any other country. We fought a war there not too long ago, and it happens to be smack-dab in the middle of the most volatile region of the world, with an aggressive Islamic Republic on its Eastern border and an unstable Syria on its Western border. Add to that the ongoing disputes between Sunni, Shia, and Kurds that is making even forming a government prove next to impossible, and one wonders if even a small American training force won't end up being little more than a sitting duck for terrorists or others, an attack on which would almost compel us to become involved in an internal Iraqi conflict.
Public opinion on the Iraq War is pretty emphatic at this point, however. The majority of Americans now consider it to have been a mistake and the support for the complete withdrawal of American troops is extremely high. The Administration is taking the risk of bucking public opinion and looking hypocritical by agreeing to keep even a token force behind in Baghdad. Whether that will matter come election time is unclear, but it's only likely to add to the disappointment that many of the President's initiial and most enthusiastic supporters are feeling right about now.
Of course, whatever American force is left behind after December 31st is likely to be far, far smaller than what some Bush Administration officials and devotees of neoconservatism were hoping for. In the later years of the Bush Administration, there was talk of permanent American military bases in Iraq not unlike those we still have in Germany 66 years after the end of World War II. Thankfully, that won't be happening and I suppose that's something to be happy about.