Parking Space Economics
Free parking is a very inefficient use of land resources that wouldn't exist without government mandates and subsidies. Is it time to end the practice?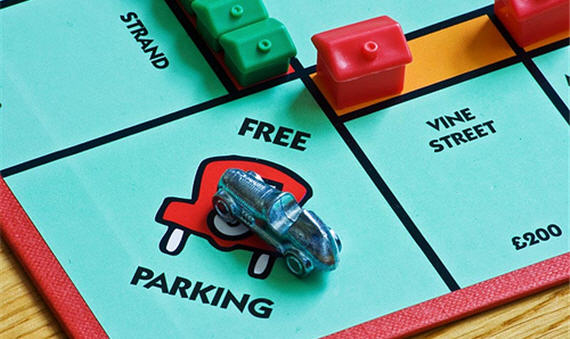 Tyler Cowen has set off quite a firestorm with a NYT column arguing that government mandates for free or very inexpensive parking are "a classic tale of how subsidies, use restrictions, and price controls can steer an economy in wrong directions."
Many suburbanites take free parking for granted, whether it's in the lot of a big-box store or at home in the driveway. Yet the presence of so many parking spaces is an artifact of regulation and serves as a powerful subsidy to cars and car trips. Legally mandated parking lowers the market price of parking spaces, often to zero. Zoning and development restrictions often require a large number of parking spaces attached to a store or a smaller number of spaces attached to a house or apartment block.

If developers were allowed to face directly the high land costs of providing so much parking, the number of spaces would be a result of a careful economic calculation rather than a matter of satisfying a legal requirement. Parking would be scarcer, and more likely to have a price — or a higher one than it does now — and people would be more careful about when and where they drove.

The subsidies are largely invisible to drivers who park their cars — and thus free or cheap parking spaces feel like natural outcomes of the market, or perhaps even an entitlement. Yet the law is allocating this land rather than letting market prices adjudicate whether we need more parking, and whether that parking should be free. We end up overusing land for cars — and overusing cars too. You don't have to hate sprawl, or automobiles, to want to stop subsidizing that way of life.
Tim Lee chimes in, saying Cowen doesn't even consider other negative consequences.
A key point to emphasize here is that parking mandates aren't just a subsidy to car ownership, they're also a burden on pedestrians, who must trek across parking lots to get to almost any building. So not only does walking mean giving up the state-mandated subsidy of free parking, but it also means walking significantly further than you'd have to in a city where the availability of parking was determined by market forces.

And this results in the opposite of the virtuous cycle I wrote about a few weeks ago: as density falls, you get fewer pedestrians, which depletes the market for small, pedestrian-friendly establishments. And fewer pedestrian-friendly businesses establishments means that even fewer people walk. The result is the situation in most cities in the Midwest and the Sun Belt, where even people who strongly prefer to live in a "walkable" neighborhood find there are few if any neighborhoods that cater to that preference.
There's no question that we subsidize parking and thus incentivize driving. But, given that we've been doing it for more than half a century and have quite literally built a country around personalized transportation, it's hardly clear that changing the regulations would fix the problems. And the pain of the transition would be enormous.
Over at his blog, Cowen admits that it's not cut-and-dried:
First, the danger of spillover parking means that a lot of parking has to be properly priced all at once.  If the local K-Mart has a smaller lot, you don't want the customers flooding a neighborhood street and simply shifting the problem.  The proper correction requires a coordinated pricing and enforcement effort, not only to succeed, but also to be sufficiently popular with homeowners.  Fortunately, most of the coordination can be done at the level of the individual town or city.

Second, we don't yet know how many more spaces would be priced in the absence of legal minimum parking requirements, and how many fewer car trips there would be, especially if we are holding the quantity and quality of mass transit constant.  The employer still may wish to subsidize appearance at the workplace.  Alternatively, "parking fees as lump sum tax" is fine by me and it bears an odd but pleasant connection to Georgist ideas.  Another possibility is that a lot of parking is shifted to satellite lots, combined with small buses or shuttles; Tysons Corner Mall already does this at Christmas or consider any number of airports.  That still would improve land use (and welfare), but it remains an open question how much congestion and emissions would get better.
Arnold Kling argues that "there is a lot of confusion between fixed costs and marginal costs."
Creating a parking place carries fixed costs. However, the marginal cost of using a parking space is often zero.

The marginal cost of using a cell phone network is often zero, so your cell phone company tries to offer you a plan that makes the marginal cost feel like zero to you. It could be that free parking emerges for the same reason.

If we abolished free parking, would parking spaces be scarcer? Keep in mind that if the price of parking went up, this would cause movement along the supply curve as well as along the demand curve. Maybe the total number of parking places would decline (it depends on elasticities), but the one result you can predict with certainty is that the number of unused parking places would go up. Is that necessarily welfare-improving?
Mark Thoma worries about the distributionist consequences of high-priced parking.
As the price of a good or service rises, it begins to price some people out of the market. I don't mean that they choose to consume other things instead, I mean that no matter how much they want it, they can never have it. It's not a matter of desire, or willingness to pay, they simply cannot raise the needed funds — it's just not possible to afford the good or service in question.

Because of this there are some goods and services controlled by government, national parks come to mind, where we choose to allocate goods by other means than the price system, lotteries, waiting time, random draws, that sort of thing. It generally occurs when we think equity is a primary consideration, i.e. that everyone should have a relatively equal shot at consuming a good or service.

[…]

As we begin to price public areas with market based mechanisms — places owned by all of us — we need to think hard about equity and make sure we don't exclude certain segments of the population from access to these goods, services, and places. Sometimes market based allocations are fine, but not always.
Then again, Cowen notes, "less land for parking should lower other real estate and retail prices, even if more poor people end up taking the bus.  And the very poorest Americans often don't have cars at all."
Robin Hanson, meanwhile, can't understand why economists like Thoma and Kling work so hard to refute simple microeconomic analysis.
Why should we treat parking spots much different than thousands of other familiar products whose average costs are often above marginal costs? Should we require every mall to have enough movie theaters seats to handle the premier of a record blockbuster, all because since theatres are rarely full their marginal cost is near zero?  How about similarly requiring a vast supply of restaurant tables which would then rarely be full?

Sometimes good economic analysis says that the world should be different than it is. Yes you should wonder if such an analysis is missing something important. But you shouldn't strain too much just to justify the status quo. We require the creation of way too much parking, and we'd be better off to coordinate to stop it.
To all this, I'd add a couple of points.
First, this is a very difficult conversation to have because of the radical differences in reference frames of the two sides.    Aside from economists, anti-free parking types are invariably urban dwellers where parking is difficult and the demand for every square foot of space is high.   People who live in suburbs, especially those that don't regularly drive into the handful of dense urban centers where any of this matters, are befuddled.  Nobody would pay to park at the Hamilton Place mall on the outskirts of Chattanooga.   At the Pentagon City mall, nobody thinks twice.
Second, while ordinances requiring the allocation of parking spots for apartment buildings, storefronts, and the like are doubtless a boon to car owners, they are mostly an attempt to limit negative externalities.   If I build an apartment complex in a major downtown center and provide no parking, I'm obviously less competitive than those who do.   But, at the same time, those who live in my building who own cars are going to have to park somewhere, and they'll therefore occupy spaces — often for hours and days on end — that could otherwise be used by short-term parkers who want to patronize the local merchants, taverns, and restaurants.   Similarly, if I run a downtown business that caters to clients who don't need to come to my storefront, I'd never pay to construct parking spaces for my employees, as it'd be cheaper to subsidize their parking elsewhere.   But, again, that means my employees, who arrive before the shops open, are taking up spots that could be used by customers of service-oriented businesses.
Taking both of these into consideration, then, it seems to me that the key good to control is street parking in crowded downtown areas at peak hours.   We want residents of apartment buildings and houses and employees of businesses to be out of the way to accommodate short-term parking that allows commerce to take place.   So, in places where street parking is scarce, charge variable rates at meters and limit the number of hours that can be parked there.  (A tangentially related pet peeve: And delivery vehicles can't be allowed to take up these spaces, much less double park, which means that those activities have to be time-shifted to the early morning or late evening hours.)
These regulations would be anathema in most of the United States, which simply isn't crowded enough to have that kind of government intervention in the lives of citizens.   But it makes sense in New York, Boston, DC, San Francisco, and a handful of other metro areas long since accustomed to the need for state to smooth over daily interactions.