Pat Buchanan Off MSNBC Indefinitely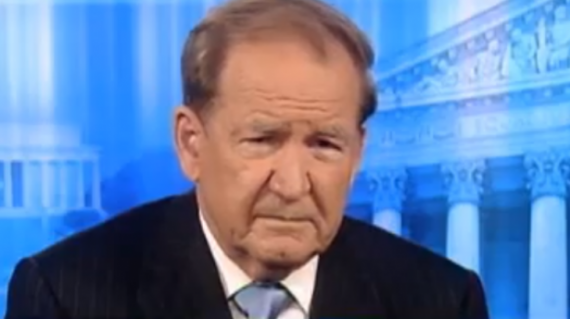 One of the odder pundit/cable network pairings in recent years has been the continued presence of Pat Buchanan on MSNBC. Given some of Buchanan's more outrageous views, including things like the recent book where he said that Poland should have surrendered to the Nazis rather than forcing them to invade in 1939, or his comments last year that there were too many Jews on the Supreme Court, not to mention his involvement in controversial causes like the case of former Nazi guard John Demjanjuk, many conservatives smelled conspiracy. Buchanan was on MSNBC, they asserted, because they wanted to present the most outrageous, offensive person they could find as representative of conservatism. My first response to that has always been that Buchanan really isn't much more offensive than some of the most popular hosts of Fox News Channel, or the King of conservative talk radio Rush Limbaugh. The more likely reason that Buchanan has been given such a wide audience, I think, is because he's been around Washington forever, everybody knows him and, despite his views, a lot of them seem to like him. It was just another version of the Old Boys Network.
Recently, though, Buchanan's been missing from the air. Frankly, I hadn't really noticed it because Buchanan is one of those people I tend to tune out if he happens to come on while I have the television on in the background. There was some speculation that he had been out because he'd had surgery late last year. It turns out, though, that he's been kept off the air for another reason:
MSNBC's top executive said Saturday that he hasn't decided whether conservative commentator and author Pat Buchanan will be allowed back on the network.

Buchanan, a former GOP presidential candidate and a paid MSNBC contributor, hasn't been on the network since the publication of his book "Suicide of a Superpower" last October. The book has chapters titled "The End of White America" and "The Death of Christian America" and its author argues that the United States is in the "Indian summer of our civilization."

"When Pat was on his book tour, because of the content of the book, I didn't think it should be part of the national dialogue much less part of the dialogue on MSNBC," said MSNBC President Phil Griffin. The minority advocacy group Color of Change has circulated a petition urging MSNBC to fire Buchanan.

Buchanan did appear for an interview about his book in October on Fox News Channel's "Hannity," where host Sean Hannity said, "welcome out of exile."

Griffin would not discuss the length of Buchanan's contract with MSNBC or whether it would be renewed.

The conservative firebrand has seemed increasingly out of place on a network that has emphasized a liberal viewpoint on many of its programs in recent years. Last August, Buchanan went on "Morning Joe" to explain that he wasn't trying to slur President Barack Obama by referring to him as "your boy" during an on-air discussion with talk show host Al Sharpton.
There is a certain amount of irony in MSNBC keeping Buchanan off the air for his intermediary views, while giving an hour long show to a man whose entire career is based on stoking racial resentment, even when it involves helping to make up crimes that did not happen and accusing innocent men of things they didn't do. That said, I can't say I'm sad to see Buchanan go. He didn't really bring anything interesting to the conversation, and he did not represent modern conservatism at all. Recently, we've seen MSNBC bring on pundits like Matt Lewis, S.E. Cupp, and a host of people from National Review. Say what you might about them, but each one of them is better than Pat Buchanan.