Pat Roberts Engages In Gitmo Fearmongering To Win Re-Election
Facing a tough re-election battle, Kansas Senator Pat Roberts is engaging in abject fearrmongering.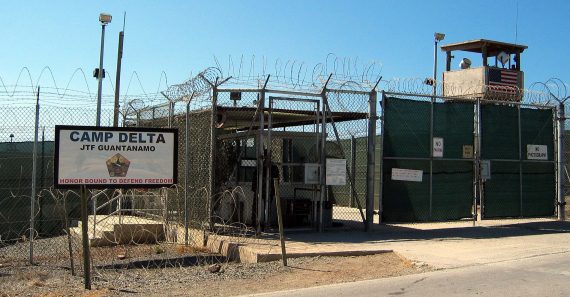 In his effort to save his Senate seat from a surprisingly tough challenge from Independent Greg Orman, Senator Pat Roberts is raising the specter of terrorists currently confined at the prison at Guantanamo Bay coming to Kansas:
No detainees from Guantánamo are headed for the prisons of Leavenworth, Kan., anytime soon, if ever. But you wouldn't know that from the campaign of Senator Pat Roberts, a Republican in a very tight race, who has made a terrorist-free state one of his most fervent campaign promises.

"Pat Roberts promises to keep terrorists out of Kansas," says a newscaster in a clip included in one of his recent television ads. "Senator Roberts issuing a very blunt threat to the White House about inmates at Guantánamo Bay," says another journalist. And finally the ad turns to Mr. Roberts himself, declaiming, in a voice loud enough to echo across the plains, "Not. On. My. Watch!"

Congress, of course, has repeatedly prohibited President Obama from transferring any prisoners from Guantánamo to the United States (a decision The Times editorial board has called "outrageous"). Mr. Roberts was one of the leaders of those efforts. But earlier this month, after several news media reported that Mr. Obama was considering ways to get around that ban, Mr. Roberts erupted again with a filibuster threat, in full view of the Kansas electorate.

"I stopped him once from trying to send the Gitmo terrorists to Leavenworth," Mr. Roberts said at the state Republican headquarters. "I shall do it again, I shall do it again, and if he tries it, I will shut down the Senate."
Here's the video:
The New York Times' David Firestone comments:
The fact is that the 149 remaining inmates of Guantánamo pose no danger to the residents of eastern Kansas. The Leavenworth area is already home to five prisons that over the years have held some of the nation's most violent criminals, including domestic terrorists and murderers. The Disciplinary Barracks at Fort Leavenworth, a maximum-security prison that has often been mentioned as a possible alternative to Guantánamo, currently houses (without difficulty) Major Nidal Hasan, the Army psychiatrist who killed 13 people and injured dozens more in the 2009 Fort Hood shooting.

(…)

But just as Ebola is more frightening to people than far more infectious domestic diseases, foreign terror inmates rile up politicians more than violent domestic criminals. Real leaders work to calm their constituents when no threat exists. Officials like Mr. Roberts try to stir them up, hoping they'll benefit from their outrage.
To be fair, and I've noted before, the Congressional opposition to closing Guantanamo and relocating some or all of the 149 prisoners held there, at least 48 of which have been deemed to much of a threat to ever be released no matter whether or not they are brought up for a trial or military tribunal, has always been a matter of bipartisan opposition. The main reason for that, for better or worse is that the American public doesn't want these people in their area notwithstanding the fact that they would be held in facilities from which escape is essentially impossible. Because of this, there are few politicians on either side of the aisle who have been willing to speak out in favor of closing the prison at Gitmo and transferring prisoners to the United States, and that is unlikely to change as long as the United States continues to fight something akin to the "War on Terror." Indeed, now that we've taken the fight to ISIS it's not to hard to see a day when more prisoners are brought to the prison. Foreseeing a day when there are no more prisoners there on the other hand? That's kind of difficult.
That being said, Firestone is right that this ad is nothing more than an abject, irrational ad that plays to fears that the public has that, in reality, have little basis in reality. A real leader would be one who makes the case to the public that we don't need to keep all the prisoners at Gitmo, and that the danger of transferring the ones that we cannot afford to release to Super Max and other facilities in the Continental United States does not pose any significant risk to national security or public safely. Indeed, even President Obama, who campaigned on the idea of closing the prison and signed an Executive Order calling for that on his first day in office in 2009, appears to have given up on the idea and it seems unlikely that either Hillary Clinton or the eventual Republican nominee in 2016 will consider it a top priority. Much like the PATRIOT Act, it appears that Gitmo is another legacy of 9/11 that will be with us for the foreseeable future.