Pat Summerall, Long The Voice Of The NFL, Dies At 82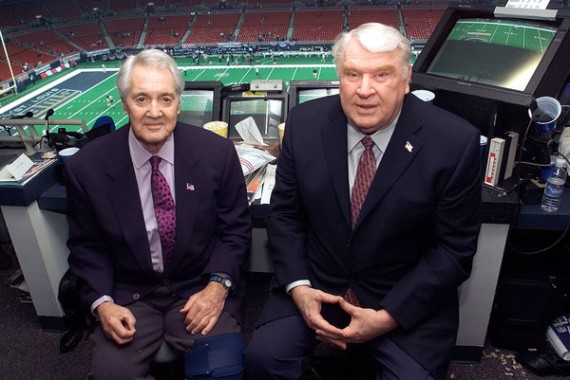 Pat Summerall, who spent more than two decades as the voice of the NFL  after a career playing for the New York Giants, has died at the age of 82:
Pat Summerall, the Giants' outstanding place-kicker who went on to team with John Madden for 21 seasons in network television's most prominent N.F.L. broadcast twosome, died on Tuesday in Dallas. He was 82.

A family spokeswoman, Valerie Bell, said Summerall had been at Zale Lipshy University Hospital since Thursday, when he broke a hip in a fall at his home in Southlake, Tex., in the Dallas-Fort Worth area.  She said he was undergoing rehabilitation at the hospital when he experienced sudden cardiac arrest.

  On a December afternoon in 1958, Summerall kicked a 49-yard field goal in a snowstorm at Yankee Stadium to give the Giants a 13-10 victory over the Cleveland Browns and send the teams to a playoff for the Eastern Conference title. The Giants beat the Browns again the next Sunday, then played in the first of three National Football League championship games in Summerall's years with them.

That field goal provided one of the more thrilling moments in Giants history. But when Summerall took up broadcasting, he shunned the dramatic turn, preferring an understated and spare style in doing the play-by-play. He largely let the action on the screen speak for itself, meshing splendidly with Madden, a former coach, who eagerly explained the strategy.

"When you listen to Pat, it's comfortable, it's a big game, you're bringing a gentleman into your house," Madden once said.

Summerall spent more than 40 years in broadcasting with CBS and Fox. Although best remembered for his football work, he was also the voice of the Masters golf tournament and the United States Open tennis tournament.

(…)

George Allen Summerall, nicknamed Pat as a youngster, was born in Lake City, Fla., where he endured a traumatic childhood.

He was born with a right leg twisted backward. A doctor, trying a novel procedure, fractured the leg, turned it around and then reset it when he was an infant. The doctor thought the child might always walk with a limp and doubted he could play sports.

Summerall's parents had separated before he was born. When he was 3, his mother no longer wished to care for him, and he was raised by an aunt, an uncle and a grandmother, who inspired him to pursue sports.

Though his right leg was shorter than the left, he became a place-kicker and played end for the University of Arkansas, and then was drafted by the Detroit Lions in 1952. He spent one season with Detroit and five with the Chicago Cardinals before joining the Giants in 1958.

Summerall sometimes played at defensive or tight end, but he was primarily a kicker in his 10 N.F.L. seasons, and no kick was more memorable than that 1958 field goal against the Browns in the snow.

As he told it in his memoir: "I made the mistake of looking toward the distant goal shrouded in a heavy curtain of falling snow. The wind was howling. My breath was a vapor cloud hovering in front of my face. It was a good snap and a good hold. As soon as I kicked it, I knew it was going to be far enough, but the ball was on a very unpromising trajectory, knuckleballing like a missile gone awry. Yet somewhere it stayed on course and cleared the uprights by so much it would have been good from 65 yards out."

After beating the Browns a second time in the playoff game, the Giants lost to the Baltimore Colts in sudden-death overtime in the 1958 championship game, which buoyed pro football's emerging popularity and came to be called "The Greatest Game Ever Played." The Giants went to the title game again in 1959 and '61, losing each time.

Summerall retired after the 1961 season with 563 career points, all coming on field goals and extra points except for one interception return for a touchdown.

He began his broadcasting career doing sports shows for CBS Radio while playing for the Giants, then worked as an analyst on Giants' TV broadcasts, teaming with Chris Schenkel. He teamed with the former Philadelphia Eagles defensive back Tom Brookshier during the 1970s, then began working with Madden during the 1981 season. They remained together on CBS through 1993, then worked as a pair for Fox from 1994 through the 2001 season. Summerall remained with Fox for another year after that, then worked Dallas Cowboys games on the radio.

In 1994, the National Academy of Television Arts and Sciences gave him a lifetime achievement award, and the Pro Football Hall of Fame honored him with its Pete Rozelle Radio-Television Award.
If you grew up watching the NFL in the 70s and 80s, then Summerall was part of your Sunday afternoons and set a standard that few current on-air personalities seem to be able to match. He was the perfect balance for the often over-the-top enthusiasm of John Madden and the two of them made a great team together, as Madden acknowledged in his comments last night:
Pat Summerall was "one of the card-carrying good guys," and his death is "a damn shock," said John Madden, his longtime partner in the broadcast booth.
Summerall, 82, died Tuesday, Fox Sports spokesman Dan Bell confirmed. The Dallas Morning News reported that Summerall died in his room at Dallas' Zale Lipshy Hospital, where he was recovering from surgery for a broken hip.

"He was so solid and a good friend and a real pro," Madden told The Times in a telephone interview. "He was always up, always had a joke. Was low-maintenance for everyone."

Madden said Summerall had an uncanny ability to work a game as either a play-by-play man or analyst without the use of notes. Summerall worked a record 16 Super Bowls in a broadcast career that stretched from 1962 to 2002.

"You know in TV some of these guys have all the numbers and stats and notes?" said Madden, who worked alongside him for 21 seasons. "Pat would come to a broadcast with nothing. It was all in his head. He didn't have anything. Could you see another play-by-play guy today doing that

(…)

"In all the time I worked with him, we never had one argument," he said. "That was because of him. I'm not the easiest person to get along with, but he was."
Truly, it's the end of an era.
Photo via New York Times