Paterno Sold Wife House for $1
Joe Paterno recently sold his share of their house to his wife for $1, presumably to shield it from legal settlements.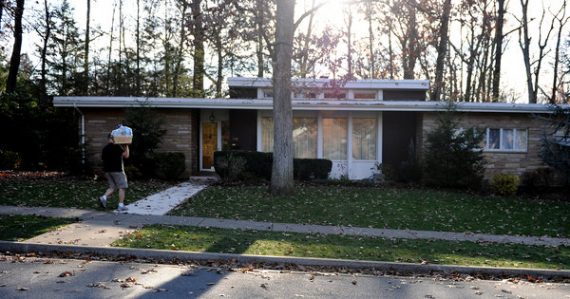 Joe Paterno recently sold his share of their house to his wife for $1.
NYT ("Paterno Passed On Home to His Wife for $1"):
Joe Paterno transferred full ownership of his house to his wife, Sue, for $1 in July, less than four months before a sexual abuse scandal engulfed his Penn State football program and the university.

Documents filed in Centre County, Pa., show that on July 21, Paterno's house near campus was turned over to "Suzanne P. Paterno, trustee" for a dollar plus "love and affection." The couple had previously held joint ownership of the house, which they bought in 1969 for $58,000.

According to documents filed with the county, the house's fair-market value was listed at $594,484.40. Wick Sollers, a lawyer for Paterno, said in an e-mail that the Paternos had been engaged in a "multiyear estate planning program," and the transfer "was simply one element of that plan." He said it had nothing to do with the scandal.

Paterno, who was fired as the football coach at the university last week, has been judged harshly by many for failing to take more aggressive action when he learned of a suspected sexual assault of a child by one of his former top assistants.

Some legal experts, in trying to gauge the legal exposure of the university and its top officials to lawsuits brought by suspected victims of the assistant, Jerry Sandusky, have theorized that Paterno could be a target of civil actions. On Nov. 5, Sandusky, Penn State's former defensive coordinator, was charged with 40 counts related to the reported sexual abuse of eight boys over 15 years. Paterno, 84, was among those called to give testimony before a grand jury during the investigation, which began in 2009.

Experts in estate planning and tax law, in interviews, cautioned that it would be hard to determine the Paternos' motivation simply from the available documents. It appears the family house had been the subject of years of complex and confusing transactions.

Lawrence A. Frolik, a law professor at the University of Pittsburgh who specializes in elder law, said that he had "never heard" of a husband selling his share of a house for $1 to his spouse for tax or government assistance purposes.

"I can't see any tax advantages," Frolik said. "If someone told me that, my reaction would be, 'Are they hoping to shield assets in case if there's personal liability?' " He added, "It sounds like an attempt to avoid personal liability in having assets in his wife's name."

Two lawyers examined the available documents in recent days. Neither wanted to be identified because they were not directly involved in the case or the property transaction. One of the experts said it appeared to be an explicit effort to financially shield Joe Paterno. The other regarded the July transaction, at least on its face, as benign.
It's hard to imagine a purpose for this–especially given the timing (he'd testified to the grand jury months before the indictments were handed down ten days ago)–other than shielding his assets. Which, frankly, is a perfectly prudent action under the circumstances.
As an aside, it's remarkable that the Paternos are still living in the same modest house they bought in 1969. While his $513,000 annual salary is modest by big time college coach standards, it's certainly more than enough to support a more lavish lifestyle.