Paterno's Death Will Impact Sandusky Case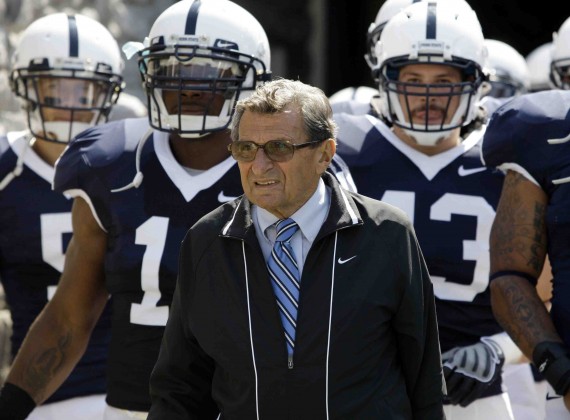 Joe Paterno's death is likely to have an impact on the criminal cases arising out of the child abuse allegations against former Penn State Assistant Coach Jerry Sandusky:
STATE COLLEGE, Pa. — The death of Joe Paterno on Sunday will partly weaken the state's prosecution of two former university officials who have been charged in connection with the child sexual abuse case involving Jerry Sandusky.

Paterno was expected to testify at the trials of Tim Curley, the former Penn State athletic director, and Gary Schultz, the university's former senior vice president for finance and business. However, it is unclear how much of an effect the lack of that testimony will have on the state's case against Curley and Schultz.

Paterno testified before a grand jury in January that he met with Curley and Schultz about Sandusky. Paterno told Curley and Schultz that Mike McQueary, a former graduate assistant, reported to him that he had witnessed a sexual assault involving Sandusky and a boy, known as Victim 2, in the shower of Penn State's athletic facility in 2002.

In a separate meeting, McQueary testified, he told Curley and Schultz about the graphic sexual nature of what he had witnessed.

Curley and Schultz were charged for failing to report to the authorities what they knew about the incident. Curley is on administrative leave; Schultz has retired.

"Now that Paterno is deceased, this charge will have to stand only on the report by McQueary," said Geoff Moulton, a former federal prosecutor and an associate professor at Widener School of Law. "With respect to Victim 2 and the charges against Curley and Schultz, McQueary's testimony, which has always been critical, is even more so."

Paterno's grand jury testimony is inadmissible, according to several lawyers, because he was not cross-examined in that proceeding. The Sixth Amendment's confrontation clause guarantees criminal defendants the right to confront the witnesses against them.

Wick Sollers, who was Paterno's lawyer, said in an e-mail that Paterno's statements before the grand jury constituted his only under-oath testimony in the case. With Paterno's death, the lawyers for Curley and Schultz no longer have the opportunity to challenge his credibility.

Curley and Schultz were also charged with lying to the grand jury, but it appears from the grand jury report that those charges stem only from their account that McQueary did not tell them that the incident was sexual in nature. That would mean Paterno's inability to take the stand is perhaps not as critical in prosecuting the perjury charges.

But his absence could have some effect.

"Why would he have told it to Paterno and not told them?" said Howard Bruce Klein, a former federal prosecutor who is a criminal defense lawyer in Philadelphia. "McQueary becomes more credible when you hear Paterno tell his version of it. On the perjury charge, I would say Paterno would be a corroborating witness."
Aside from the legal issues keeping Paterno's testimony out of court, one has to think that the prosecution has lost a real psychological advantage as well. The impact of JoePa himself sitting on the stand and testifying would likely have been considerable.