Patriots Tight End Aaron Hernandez Arrested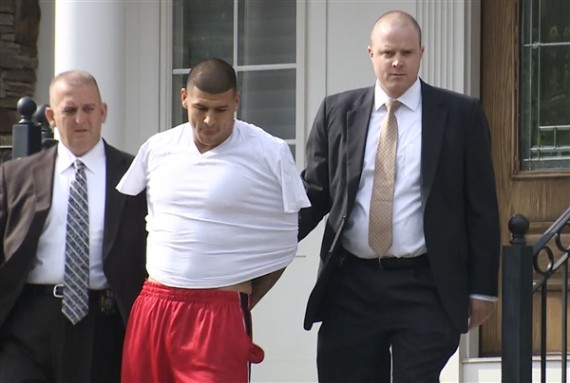 New England Patriots Tight End Aaron Hernandez has been under the microscope for the better part of a week now regarding his role in the death of an acquaintance was arrested this morning, although it's unclear what if any charges may be pending against him:
NORTH ATTLEBOROUGH, Mass. – Aaron Hernandez was arrested Wednesday morning, more than a week after an acquaintance of the New England Patriots tight end was found dead in an industrial park near his house.

Less than two hours following his arrest, Hernandez was released by the Patriots, who initially announced the transaction on their Twitter account before formalizing it in an official statement.

The Bristol County District Attorney's office released a statement announcing Hernandez's arrest, although charges were not disclosed. Hernandez was arrested by Massachusetts State Police, who obtained the arrest warrant, and was booked at the North Attleborough police station.

The Massachusetts State Police announced on its Twitter account that the charges against Hernandez will not be revealed until his arraignment Wednesday at Attleboro District Court.

Wearing a white V-neck T-shirt, long red athletic shorts and black sneakers, Hernandez was led around 9 a.m. ET from the front door of his mansion with his hands in handcuffs behind his back inside the shirt and placed into a police cruiser, which quickly drove away. He casually spit into some bushes on his way to the car.

Hernandez remains at the center of an investigation involving the shooting death of 27-year-old Odin Lloyd.

The Patriots extended their sympathies to Lloyd's family in the statement announcing Hernandez's release from the team.

"A young man was murdered last week and we extend our sympathies to the family and friends who mourn his loss," the Patriots' statement said. "Words cannot express the disappointment we feel knowing that one of our players was arrested as a result of this investigation. We realize that law enforcement investigations into this matter are ongoing. We support their efforts and respect the process. At this time, we believe this transaction is simply the right thing to do."
Late last week, there were reports that Hernandez was on the verge of being arrested on obstruction of justice charges, but it's unclear if his arrest today is related to those charges, or something more serious.