Paul Krugman's Cure For Economic Woe: An Alien Invasion
According to Paul Krugman, what the American economy needs is for a bunch of space aliens to invade us.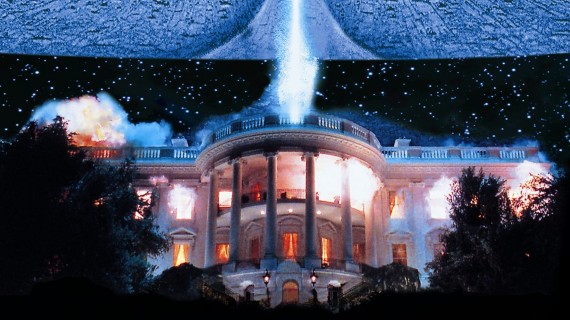 After watching this video, I'm beginning to wonder if the Nobel Committee might not want to reconsider giving Mr. Krguman an award:
Fareed Zakaria: Wouldn't John Maynard Keynes say that if you could employ people to dig a ditch and then fill it up again, that's fine, they're being productively employed, they pay taxes, so maybe Boston's Big Dig was just fine after all.

Paul Krugman: Think about WWII, right? That was not, that was actually negative social product spending, and yet it brought us out [of the Depression]. I mean partly because you want to put these things together, you say, 'Look, we could use some inflation,' Ken and I are both saying that, which is of course anathema to a lot of people in Washington, but it's in fact what the basic logic says.

It's very hard to get inflation in a depressed economy, but if you had a program of government spending plus an expansionary policy by the Fed, you could get that. So that if you think about using all of these things together, you could accomplish a great deal.

If we discovered that space aliens were planning to attack, and we needed a massive buildup to counter the space alien threat, and really inflation and budget deficits took secondary place to that, this slump would be over in 18 months.

And then if we discovered, 'Whoops! We made a mistake. There aren't actually any space aliens,' we'd be in better —

Ken Rogoff: So we need Orson Welles is what you're saying.

Paul Krugman: No. There was a Twilight Zone episode like this, in which scientists fake an alien threat in order to achieve world peace. Well, this time we don't need it [to achieve world peace]; we need it in order to get some fiscal stimulus.
This isn't the first time that Krugman has suggested worldwide catastrophe as a cure for the economic blues. Last September, he argued that World War II  was, in the end, an economic good because it led to a post-war boom:
From an economic point of view World War II was, above all, a burst of deficit-financed government spending, on a scale that would never have been approved otherwise. Over the course of the war the federal government borrowed an amount equal to roughly twice the value of G.D.P. in 1940 — the equivalent of roughly $30 trillion today.

(…)

Guess what? Deficit spending created an economic boom — and the boom laid the foundation for long-run prosperity. Overall debt in the economy — public plus private — actually fell as a percentage of G.D.P., thanks to economic growth and, yes, some inflation, which reduced the real value of outstanding debts. And after the war, thanks to the improved financial position of the private sector, the economy was able to thrive without continuing deficit
That wasn't the first time that Krguman had made the "economic growth from destruction" argument. Only three days after the September 11th attacks, he wrote this:
[T]he direct economic impact of the attacks will probably not be that bad. And there will, potentially, be two favorable effects.

First, the driving force behind the economic slowdown has been a plunge in business investment. Now, all of a sudden, we need some new office buildings. As I've already indicated, the destruction isn't big compared with the economy, but rebuilding will generate at least some increase in business spending.
What Krugman's World War II analysis left out, of course, is the fact that the United States was the only major industrialized nation on the planet that had not been nearly or completely destroyed by the devastation of a six year long war. During the war, most of our investment involved creating things that blew other things up, or creating the vessels that transported the things that blew things up. There was no economic value in either of these things in a post-war world. Moreover, Krugman's analysis completely leaves out the tremendous economic cost of the war itself. This includes not only the raw cost of the war itself, but also the capital equipment lost, the human capital lost, and the cost of investment diverted from normal economic activities to wartime production by government fiat. The same analysis applies to the September 11th attacks. Destroying the towers did not create wealth, it destroyed wealth.
Krugman makes the same mistake with regard to this hypothetical alien invasion, or the "Twilight Zone" scenario (which was actually an episode of The Outer Limits it turns out) where the world is deceived into believing that such a threat exists "for its own good." Expending vast amounts of resources to prepare for an alien attack that never happens wouldn't create wealth, it would merely waste vast amounts of resources. If it turned out that there was a real alien invasion and we were forced to rebuild a devastated Earth post-war, we would just be living in a post-WW2 scenario writ large, not creating vast new sources of wealth.
Krugman's true failure, and the reason the Nobel Committee should be red-faced right about now,  is that he ignores the lesson that Frederic Bastiat taught some 160 years ago when he set forth what has come to be known as the Broken Window Fallacy:
Have you ever witnessed the anger of the good shopkeeper, James B., when his careless son happened to break a square of glass? If you have been present at such a scene, you will most assuredly bear witness to the fact, that every one of the spectators, were there even thirty of them, by common consent apparently, offered the unfortunate owner this invariable consolation—"It is an ill wind that blows nobody good. Everybody must live, and what would become of the glaziers if panes of glass were never broken?"

Now, this form of condolence contains an entire theory, which it will be well to show up in this simple case, seeing that it is precisely the same as that which, unhappily, regulates the greater part of our economical institutions.

Suppose it cost six francs to repair the damage, and you say that the accident brings six francs to the glazier's trade—that it encourages that trade to the amount of six francs—I grant it; I have not a word to say against it; you reason justly. The glazier comes, performs his task, receives his six francs, rubs his hands, and, in his heart, blesses the careless child. All this is that which is seen.

But if, on the other hand, you come to the conclusion, as is too often the case, that it is a good thing to break windows, that it causes money to circulate, and that the encouragement of industry in general will be the result of it, you will oblige me to call out, "Stop there! your theory is confined to that which is seen; it takes no account of that which is not seen."

It is not seen that as our shopkeeper has spent six francs upon one thing, he cannot spend them upon another. It is not seen that if he had not had a window to replace, he would, perhaps, have replaced his old shoes, or added another book to his library. In short, he would have employed his six francs in some way, which this accident has prevented.

Let us take a view of industry in general, as affected by this circumstance. The window being broken, the glazier's trade is encouraged to the amount of six francs: this is that which is seen.

If the window had not been broken, the shoemaker's trade (or some other) would have been encouraged to the amount of six francs: this is that which is not seen.

And if that which is not seen is taken into consideration, because it is a negative fact, as well as that which is seen, because it is a positive fact, it will be understood that neither industry in general, nor the sum total of national labour, is affected, whether windows are broken or not.
Destruction doesn't create wealth, it destroys wealth, and make-work projects like the ones that Zakaria and Krugman talk about in the video above aren't going to bring this economy back.
Transcript via The PJ Tatler