Paul Mirengoff Leaves Power Line After Yaqui Indian Post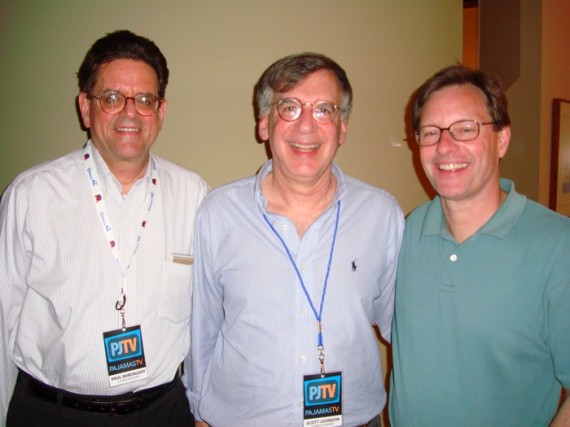 Power Line founder Paul Mirengoff has left the blog, after a controversial posting about the Tucson funeral service got him in hot water with his law firm.
William Jacobson has the details but the short version is that Mirengoff took issue with a Yaqui Indian tribal prayer at the memorial service, contending that a Christian prayer would have been more appropriate given the victims and the audience.  This caused one of Mirengoff's fellow partners at Akin Gump, who's a member of the Yaqui tribe, to issue an outraged statement, which in turn caused the firm to demand Mirengoff take down the post and issue an apology.
Presumably, Mirengoff decided at this point that continuing to express controversial opinions on a personal blog wasn't worth the risk to a highly successful and lucrative legal career.  (It should be noted that the Power Line gang posted under rather silly pseudonyms in the early years of the site, so one imagines they'd considered that previously.)
Jacobson muses, "I can't help but think that Mirengoff being a well-known conservative blogger contributed to the fauxtroversy and that there was a double standard.  If Mirengoff were a liberal blogger, and had made exactly the same comments but about having only a Christian preacher opening the memorial service for non-Christians, Mirengoff still would be blogging at Power Line."
Stacy McCain concurs that this is "political correctness run amok" but thinks the more likely explanation is that Akin Gump has a number of major tribal and aboriginal lobbying clients and can't afford to risk losing their business.
On the surface, it strikes me that Akin Gump overreacted to a minor incident.  But I don't know enough about the firm's clientele and business model to really evaluate. And, certainly, it has every right to control its public image, to include ensuring the partners don't write embarrassing things in public fora.  Mirengoff is a labor law specialist with a distinguished record in the field and knows that.
Jeff Goldstein thinks the problem is more fundamental:  "If we're going to pretend that language works in a way that it clearly doesn't — and to institutionalize that idea into our very epistemology — what we will end up with is the slow erosion of our speech, as more and more of it becomes subject to 'interpretations' motivated by cynicism and a will to power."   But I'm afraid that ship has long since sailed.  Language is subject to interpretation, and people will often come away with a different impression than the author/speaker intended.   That possibility has a chilling effect on our conversation about some subjects but it's not at all clear how to prevent it happening.