Paul Ryan Blasts Budget Deal Process, But He's Likely Very Pleased It Happened
Paul Ryan is blasting the process that led to the new budget deal between the GOP and the White House, but one suspects he's secretly quite pleased with the fact that it makes his job-to-be a lot easier.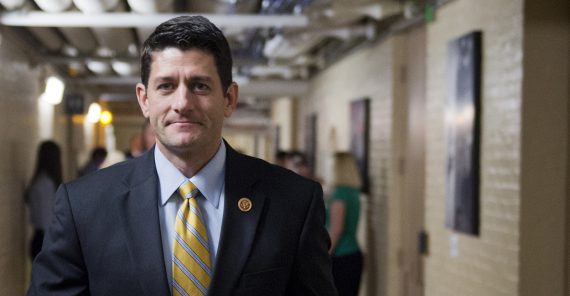 Incoming House Speaker Paul Ryan is blasting the new budget deal that was announced late yesterday, but he's doing so in terms that seem to indicate that he's relieved that this issue will be off his plate when he steps into the Speaker's chair:
Rep. Paul Ryan on Tuesday blasted Speaker John Boehner, Senate leadership and the White House for the secretive process they used to negotiate a two-year budget and debt ceiling agreement that appears poised to pass Congress this week.

"I think the process stinks," said Ryan, who is expected to be elected speaker on Thursday. The Wisconsin Republican added that he hadn't gone through the details of the agreement, which was released Monday night.

"This is not the way to do the people's business," Ryan said. "And under new management we are not going to do the people's business this way. We are up against a deadline — that's unfortunate. But going forward we can't do the people's business. As a conference we should've been meeting months ago to discuss these things to have a unified strategy going forward."

Ryan has promised major changes to the legislative process as speaker in response to complaints from conservatives. They say Boehner's style has been too top-down and crisis-driven, largely ignoring the input of committees and rank-and-file members.

Ryan has been an ally of Boehner's throughout the Ohio Republican's five years as speaker. Ryan's remarks criticizing how the deal came to fruition represent his starkest public split with the man he's set to replace as Republican leader.

Boehner said he wasn't a fan of the process himself. "Totally agree, totally agree," the outgoing speaker said in response to Ryan's criticism.

Parroting Ryan's own terminology, Boehner added, "It stinks. This is not the way to run a railroad."

At the same time, Boehner defended the substance of the deal, which would stave off the dual threat of a debt default and a government shutdown for more than a year. The 144-page agreement would boost spending by $80 billion over two years — split between defense and non-defense programs — and save hundreds of billions of dollars through changes to entitlement programs, including Social Security disability insurance.

The measure would also forestall a large increase in Medicare premiums for some beneficiaries that was set to kick in in January.

The federal government risks a first-ever default if its borrowing authority wasn't extended by Nov. 3. A little more than a month later, government funding is set to expire.

The pact has broad backing in Congress among both parties, and the White House has signed off as well.
As the highlighted portion makes clear, it seems rather obvious that Ryan is not going to call on his fellow members to vote against the deal in an effort to defeat it, and that the deal itself will make it through the House, and in all likelihood the Senate, relatively unscathed in very short order. Instead, Ryan is attacking the process under which the deal was made and promises that it will not be like this under his leadership. Given the fact that many of the conservative groups that have been the biggest thorns in the side of John Boehner and Kevin McCarthy over the past five years have been complaining as much about the process about the House is run as they have about the substance of the deals that have been made, this is a smart strategy on Ryan's part. Essentially, what Ryan has done here is distance himself from a deal that was done under the outgoing leadership by addressing the very concerns that the conservatives who had initially been giving him problems have been bringing up for years now.
To be honest, many of these concerns are well-placed. For too long, Congress has been governing by responding to crisis and deadlines rather than following the procedures that it is supposed to be following. With respect to the budget, for example, these procedures include the passage of an overall budget plan long enough before the beginning of the next Fiscal Year that the various committees that have jurisdiction over the budgets of each element of the Federal Government are able to put together an actual budget, get it to the House floor for a vote, and then get it on to the Senate after which, if necessary, the matter is taken to a Conference Committee to resolve differences between the two houses versions of the budget. This is how things are supposed to work, but it is not how they have actually worked for quite some time. The closest we came was in the wake of the 2013 shutdown crisis when a joint House-Senate Committee spent two months hammering out a budget deal in a manner that Washington had not seen since some point in the middle of George W. Bush's Administration. Many conservatives on Capitol Hill have argued, with good reason, that abandoning this process has lessened the ability of Congress to have any real control over the budget since the alternative inevitably ends up being some massive budget bill that's mean to cover the entire Federal Government that gets passed in the final hours before a deadline is reached. If Ryan can actually bring that process to an end, he will have accomplished something.  Whether he'll actually be able to accomplish that is another question, of course, but the fact that he's hitting on that issue in his criticism of the budget deal is something that will no doubt placate conservatives.
A cynical observer of politics, of course, will look at all of this and see nothing short of an act on Ryan's part designed to shield him from criticism for a deal being cut just as John Boehner is headed out the door. It's extremely unlikely, after all, that Ryan was unaware of these negotiations or that he hasn't contributed at least some substance to the content of the final deal. Not only is he the incoming Speaker of the House, he's also still the Chairman of the Ways And Means Committee, which has jurisdiction over a good part of what's included in the deal. The idea that he wasn't part of the process in some way is hard to believe, and it's possible that the conservatives complaining about the deal will see through that and hold him responsible for it in some way. As I mentioned this morning, though, if the deal passes then it will take a lot of leverage away from the House Freedom Caucus and related Tea Party groups in the House for the next year or longer. They may not like the deal, but they'll have to live with it and with the fact that they have been completely outplayed. So, at the same time Ryan is complaining in public it's probable that he's quite happy with what has transpired here and the fact that his potentially largest critics have effectively been neutered.
Update: If there is anything Machiavellian going on here, it seems to have worked:
Paul Ryan is getting a pass.

Conservative lawmakers in the House Freedom Caucus say they're satisfied that the Wisconsin Republican is just as aggravated as they are with how the $80 billion budget and debt ceiling deal set to pass Congress this week was negotiated.

And the package won't affect their support of Ryan for speaker, they say.

"He shares the frustration that we do and he wants to do better and be different. I think we have to take him at his word and he is being sincere," said Idaho Rep. Raúl Labrador, a founding member of the Freedom Caucus. "We need to give him a chance to show what kind of a leader he will be, if he is lucky enough to be elected speaker. It's not his deal, but I do think he needs to be vocal about how he would have done it differently."

(…)

Freedom Caucus members are taking Ryan at his word that he would not have endorsed the secretive process that produced the pact. "It stinks," he said Tuesday.

"Under new management we are not going to do the people's business this way," Ryan added. "We are up against a deadline — that's unfortunate. … (But) as a conference we should've been meeting months ago to discuss these things to have a unified strategy going forward."

Ryan has assured Freedom Caucus members that he'll have a more open process when elected speaker.
If there was a plan here, it seems as though it's all coming together.