Pelosi Demands Open Release of Mueller Report
The Speaker says she will reject any attempt to deliver it in a "highly classified" manner.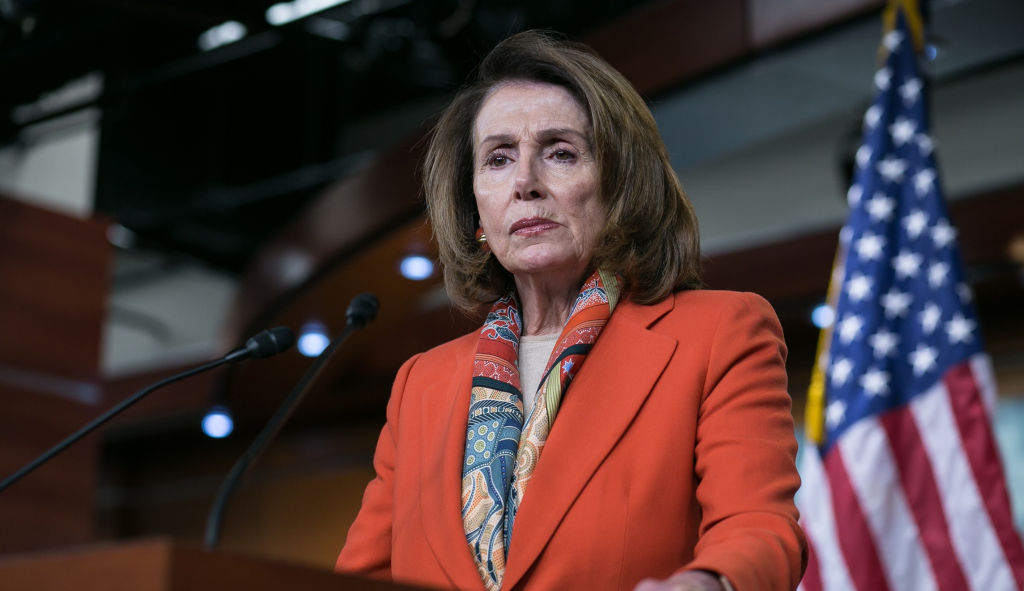 POLITICO ("Pelosi tells Dems she'll reject highly classified briefing on Mueller findings"):
Speaker Nancy Pelosi told Democrats on Saturday she'll rebuff any efforts by the Justice Department to reveal details of special counsel Robert Mueller's findings in a highly classified setting — a tactic she warned could be employed to shield the report's conclusions from the public.

Three sources who participated in a conference call among House Democrats said Pelosi (D-Calif.) told lawmakers she worried the Justice Department would seek to disclose Mueller's conclusions to the so-called Gang of Eight — the top Democrats and Republicans in the House and Senate — which handles the nation's most sensitive secrets. The substance of Gang of Eight briefings are heavily guarded.

"Everyone pounded the transparency drum continuously," said a source who was on the Saturday afternoon call.

Pelosi said it was her belief that the findings of the report should be unclassified, a consistent theme from Democrats who said they wanted Attorney General William Barr to share virtually every scrap of paper connected to the Mueller report with Congress.

Democrats repeatedly compared their demands for transparency to Republican efforts to obtain intricate details of the FBI's handling of the investigation of Hillary Clinton's private email server. GOP lawmakers succeeded in obtaining thousands of FBI officials' text messages connected to the Clinton probe, as well as agent notes, internal emails and thousands of files.

Internal Justice Department guidelines state that a sitting president cannot be indicted, and senior DOJ officials, including Deputy Attorney General Rod Rosenstein, have indicated that the department would not disclose damaging information about individuals who are not indicted. But Democrats have argued that Congress is entitled to such information as part of its own sweeping investigations into obstruction of justice and abuse of power on the part of President Donald Trump.

During the conference call, House Intelligence Committee Chairman Adam Schiff (D-Calif.) and House Oversight Committee Chairman Elijah Cummings (D-Md.) both cited the Clinton precedent as evidence to support their calls for complete transparency.

"Things kind of unfolded very, very quickly yesterday. The primary reason for the call was just to rally the troops," Rep. Val Demings (D-Fla.), a member of the Judiciary and Intelligence committees, said in an interview Saturday. "While the special counsel's work appears to be done, our work is not."
I'm of two minds on this.
To the extent that this is a political matter, I agree with Pelosi one hundred percent. Yesterday morning, I wagered, that Attorney General William "Barr will release a comprehensive summary of the report, if not the entire unredacted report, to the public and Congress very soon—possibly this weekend. Doing otherwise would be seen as a cover-up and Barr will bend over backward to protect the reputation of the DOJ." Given that the investigation goes to the very legitimacy of President Trump's election, I continue to think that's the prudent and right course of action.
As a legal matter—which I must confess, didn't occur to me before reading the above report—I'm highly sympathetic to the Justice Department's guidelines against disclosing "damaging information about individuals who are not indicted."
Having lived through the Iran Contra and Whitewater/Kitchen Sink/Lewinski investigations, I was quite skeptical about the launching of this one.
Given the dizzying number of scandals and brouhahas surrounding this team since it took office—have I mentioned it's been less than four months?—the appointment of a special counsel was perhaps inevitable. Having lived through the shit shows of Watergate, Iran-Contra, and Whitewater/Lewinski—the latter two since coming of age politically—I've dreaded the possibility. The nature of the endeavor is a massive, drawn-out fishing expedition with no real boundaries. The Iran-Contra investigation went on forever, most infamously including an indictment of key officials and damning allegations about George Bush's conduct as vice president on the eve of his bid to be re-elected president—some six years later. And even those of us who thought Bill Clinton was rightly impeached over his perjury in the Lewinski matter had misgivings about the way Ken Starr's investigation unfolded.

Alas, given the firing of Comey, an Attorney General who is himself under suspicion, and a Republican Congress that seems content to put the short-term interests of their party over those of their country, there were no good options.
Mueller conducted himself as a quiet professional and I have no reason to think he or his team did anything untoward. But the very nature of their endeavor—a massively funded fishing expedition—means that everyone with the remotest ties to the Trump campaign and Trump organization was thoroughly investigated. It's not obvious to me why those who were caught up in this dragnet but were found not to have committed indictable offenses should have the sordid details of their lives made public, let alone fed to Congress to be part of a partisan sport.
Now, that concern only extends so far. Given the circumstances, I supported then-FBI Director James Comey's controversial decision to publicly explain why Hillary Clinton was not being indicted despite wanton disregard for security rules. Given the public controversy over her actions, questions about the independence of the investigation, and the fact that she was seeking to become Commander-in-Chief and thus trusted with the entire national security apparatus, normal considerations of propriety were outweighed by public concern. Likewise, even though President Trump can't be indicted under DOJ rules and it appears that Donald Jr. and Ivanka won't be indicted, the findings vis-a-vis their conduct must absolutely be made public, their privacy rights be damned.
That said, Mueller is a bright guy. Surely he's thought about this issue over the nearly two years he's been heading the investigation. One imagines he wrote the report in such a way (appendices, perhaps?) that allows a public release of the core document and the shielding of sensitive information about lower-level officials or private citizens found not indictable.