Penn State Plea Bargained to Avoid Death Penalty
Penn State was facing a four year suspension of its football program but worked out a less harsh punishment.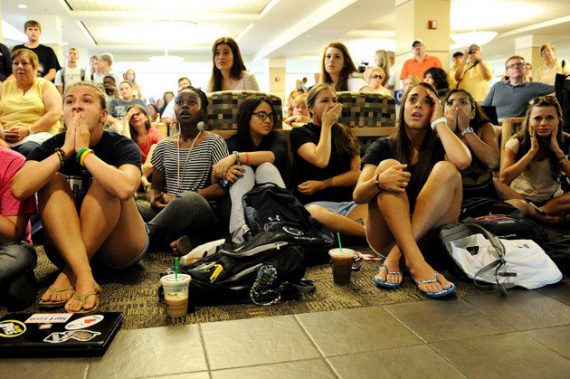 Penn State was facing a four year suspension of its football program but worked out a less harsh punishment.
Yahoo Sports ("Penn State faced four years with no football had it not agreed to current sanctions"):
In an interview with Yahoo! Sports' Pat Forde on Monday, NCAA President Mark Emmert revealed that members of the Division I Board of Directors discussed much more severe penalties than the ones actually levied against Penn State.

Now we know specifically what was on the table.

Emmert and Penn State President Rodney Erickson told ESPN's "Outside the Lines" on Wednesdaythat the majority of school presidents favored suspending the university's football program for four years.

Instead of either accepting that unprecedented punishment or forcing the NCAA to launch a formal investigation by refusing to accept sanctions, Erickson entered covert discussions with the NCAA in hopes of reaching a compromise that did not include the death penalty. The result was a defacto plea bargain in the form of the consent agreement Penn State leaders signed. In return for the NCAA taking the "death penalty" out of the punishment, Erickson agreed not to appeal penalties that included a four-year bowl ban, the nullification of 112 wins, massive scholarship reductions and a $60 million fine.

That Erickson negotiated that deal without consulting Penn State's board of trustees did not please everyone. The board of trustees met Wednesday with Erickson to discuss whether he had the authority to agree to the penalties without its approval and released a statement begrudgingly expressing its acceptance of the deal he negotiated.

"The Board finds the punitive sanctions difficult and the process with the NCAA unfortunate," the statement read.  "But as we understand it, the alternatives were worse as confirmed by NCAA President Mark Emmert's recent statement that Penn State was likely facing a multi-year death sentence."
This explains why Penn State accepted such severe punishment without complaint or appeal despite the NCAA overstepping its authority and skipping due process.