Pentagon Budget Cuts ? Yes, Why Not ?
With everyone concerned about the budget deficit, the idea of cutting military spending is finally gaining traction on Capitol Hill.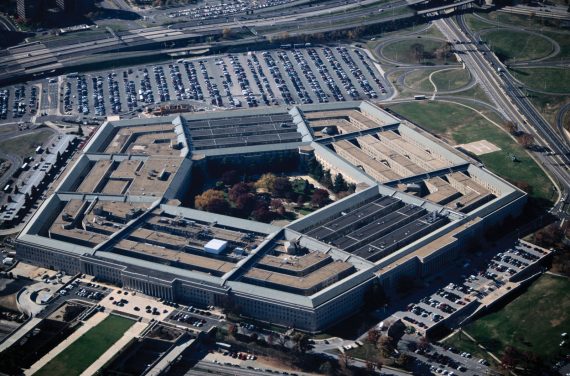 With news of yet higher budget deficits, the idea of cutting the defense budget is starting to gain traction in Washington:
WASHINGTON — After nearly a decade of rapid increases in military spending, the Pentagon is facing intensifying political and economic pressures to restrain its budget, setting up the first serious debate since the terrorist attacks of 2001 about the size and cost of the armed services.

Lawmakers, administration officials and analysts said the combination of big budget deficits, the winding down of the war in Iraq and President Obama's pledge to begin pulling troops from Afghanistan next year were leading Congress to contemplate reductions in Pentagon financing requests.

Defense Secretary Robert M. Gates has sought to contain the budget-cutting demands by showing Congress and the White House that he can squeeze more efficiency from the Pentagon's bureaucracy and weapons programs and use the savings to maintain fighting forces.

But the increased pressure is already showing up in efforts by Democrats in Congress to move more quickly than senior Pentagon officials had expected in trimming the administration's budget request for next year.

And in the longer term, with concern mounting about the government's $13 trillion debt, a bipartisan deficit-reduction commission is warning that cuts in military spending could be needed to help the nation dig out of its financial hole.

"We're going to have to take a hard look at defense if we are going to be serious about deficit reduction," said Erskine B. Bowles, a chief of staff to President Bill Clinton who is a co-chairman of the deficit commission. Senator Judd Gregg, a Republican from New Hampshire who is also on the debt commission, said that if the panel pushes for cuts in discretionary spending, "defense should be looked at," perhaps through another base-closing commission.

Mr. Gates is calling for the Pentagon's budget to keep growing in the long run at 1 percent a year after inflation, plus the costs of the war. It has averaged an inflation-adjusted growth rate of 7 percent a year over the last decade (nearly 12 percent a year without adjusting for inflation), including the costs of the wars. So far, Mr. Obama has asked Congress for an increase in total spending next year of 2.2 percent, to $708 billion — 6.1 percent higher than the peak under the Bush administration.
A number which is put into context when you realize that military spending now is higher now than it has been at any time in the post World War II era (although it does take up a smaller percentage of GDP):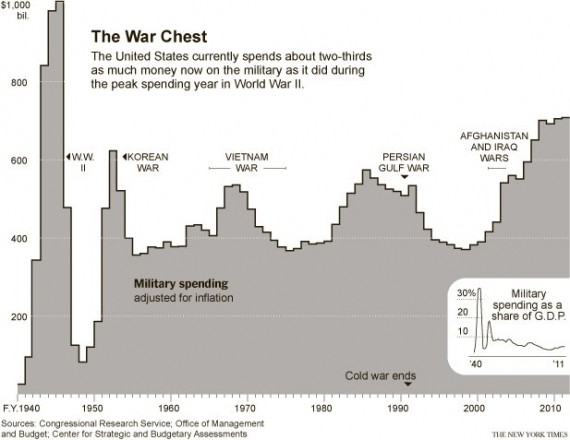 The problem is that, while most people look at the Pentagon budgets and think about $ 400 hammers and multi-billion dollar weapons systems, the real costs are elsewhere:
Two-thirds of Pentagon spending is on personnel costs. It is possible that the Pentagon will have to look for the first time at cuts to the health benefits provided to active and retired military personnel and their families.
Meaning, that real Penatgon budget cuts will only come when we think seriously about reducing the size of the military. With withdrawal imminent in Iraq, and beginning within a year in Afghanistan, it's possible that we might actually be able to do that, but I have to wonder what the political wars will be like if and when the Pentagon starts suggesting that entire sections of the armed forces be eliminated. It's a conversation we need to have, though, because, much like the space program, an everything-at-all-costs military is something we just can't afford anymore.