Pentagon Opens All Combat Roles to Women
Secretary of Defense Leon Panetta ordered a lifting of the ban on women in ground combat.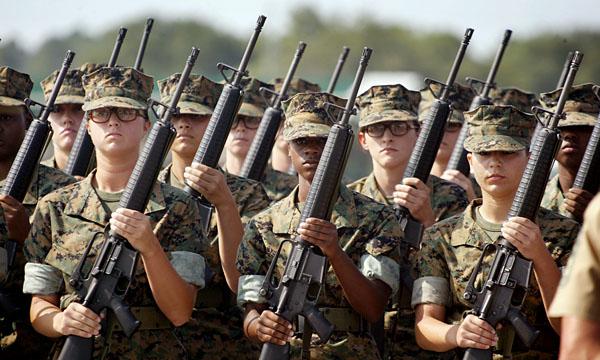 While everyone was paying attention to the Benghazi hearings, Secretary of Defense Leon Panetta ordered a lifting of the ban on women in ground combat.
AP ("Panetta opens combat roles to women"):
Senior defense officials say Pentagon chief Leon Panetta is removing the military's ban on women serving in combat, opening hundreds of thousands of front-line positions and potentially elite commando jobs after more than a decade at war.

The groundbreaking move recommended by the Joint Chiefs of Staff overturns a 1994 rule banning women from being assigned to smaller ground combat units. Panetta's decision gives the military services until January 2016 to seek special exceptions if they believe any positions must remain closed to women.
Coming as this does completely out of the blue, I don't have a strong opinion on the merits of the call. I'm highly skeptical of women in the most physically demanding roles, but there are certainly at least a handful of women who would be capable of performing them. So long as standards are not lowered—and, again, I'm highly skeptical of that—the policy may make sense. Women have exceeded our expectations over the last decade of deployment. So, frankly, have the men; the widely held notions that they wouldn't be able to cope with women in close proximity have been disproven in practice.
Aside from questions about the wisdom of the policy, I'm not all that clear on Panetta's authority. David Burrelli put out an excellent CRS backgrounder, "Women in Combat: Issues for Congress," last month. While Congress rescinded most legislation on gender roles, authoring the SECDEF to make these sort of decisions, the law would seem to require Congressional approval on changes of this scope.
If nothing else, this will likely move Benghazi off the lead position in tonight's newscasts and tomorrow's papers.
UPDATE: For an argument in favor of today's action, see Megan H. MacKenzie's "Let Women Fight: Ending the U.S. Military's Female Combat Ban" in the current Foreign Affairs.The article is temporarily available to non-subscribers. I would note that she was calling on Congress, not Panetta, to make the change.