Permanent Underemployment?
The economy has been steadily recovering from the Great Recession. But the jobs may never come back.
The economy has been steadily recovering from the Great Recession. But the jobs may never come back.
WSJ ("College Grads May Be Stuck in Low-Skill Jobs"):
Underemployment—skilled workers doing jobs that don't require their level of education—has been one of the hallmarks of the slow recovery. By some measures, nearly half of employed college graduates are in jobs that don't traditionally require a college degree.

Economists have generally assumed the problem was temporary: As the economy improved, companies would need more highly educated employees. But in a paper released Monday by the National Bureau of Economic Research, a team of Canadian economists argues that the U.S. faces a longer-term problem.

They found that unlike the 1990s, when companies needed hundreds of thousands of skilled workers to develop, build and install high-tech systems—everything from corporate intranets to manufacturing robots—demand for such skills has fallen in recent years, even as young people continued to flock to programs that taught them.

"Once the robots are in place you still need some people, but you need a lot less than when you were putting in the robots," said Paul Beaudry, an economist at the University of British Columbia in Vancouver and the paper's lead author. New technologies may eventually revive demand for advanced skills, he added, but an economic recovery alone won't be sufficient.

David Autor, an economist at the Massachusetts Institute of Technology who has studied issues of skills and education, called Mr. Beaudry's thesis "provocative" but also "speculative." There is no question, Mr. Autor said, that the wage premium enjoyed by college graduates hasn't grown as quickly during the 2000s as in earlier decades. But whether that is the result of a glut of degree holders or some other explanation isn't yet clear.
Here's the accompanying chart: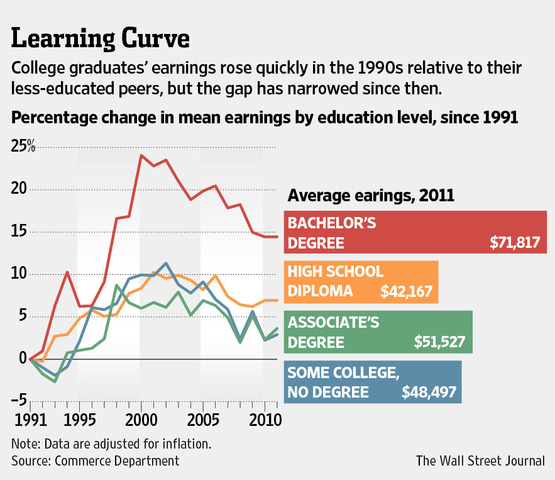 Oddly, the full paper, "The Great Reversal in the Demand for Skill and Cognitive Tasks," was released yesterday but only available for a $5 fee at NBER. Meanwhile, a PDF of what appears to be the same article by the same three researchers dated January 2013 is available for free at Beaudry's website. I leave it up to the reader to choose.
If anything, the WSJ report grossly undersells the findings. From the conclusion of the latter:
[A] substantial disagreement exists about the causes behind the current low rate of employment in the US. Cyclical effects of the 2008 financial crisis likely play a role, and the structural decline in employment in routine occupations and manufacturing jobs are certainly contributing factors (Charles, Hurst, and Notowidigdo, 2012; Siu and Jaimovich, 2012). In this paper, we present theory and evidence suggesting that to understand the current low rates of employment in the US one needs to recognize the large reversal in the demand for skill and cognitive tasks that took place around the year 2000. In particular, we have argued that after two decades of growth in the demand for occupations high in cognitive tasks, the US economy reversed and experienced a decline in the demand for such skills. The demand for cognitive tasks was to a large extent the motor of the US labor market prior to 2000. Once this motor reversed, the employment rate in the US economy started to contract. As we have emphasized, while this demand for cognitive tasks directly effects mainly high skilled workers, we have provided evidence that it has indirectly affected lower skill workers by pushing them out of jobs that have been taken up by higher skilled worker displaced from cognitive occupations. This has resulted in high growth in employment in low skilled manual jobs with declining wages in those occupations, and has pushed many low skill individuals out of the labor market.
Emphases mine. The authors posit that, rather than unemployment and underemployment being a byproduct of the 2008 collapse, it was actually a major contributing factor. They test this with econometric analysis well beyond my training. The advantages of superior intelligence and higher education have continued, even expanded. But more and more of those people have moved into positions that previously didn't require those advantages, displacing those who would otherwise have held those jobs.