Perry Continues To Lead GOP Field
We're getting close to the point where only two people on this stage will matter.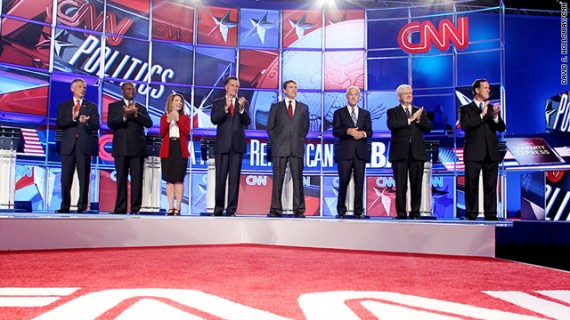 His lead has slipped somewhat from where it was when the debate season started, which is probably to have been expected, but Rick Perry continues to maintain a strong lead over his rivals for the 2012 GOP nomination:
Among voters who intend to vote in a Republican primary or caucus, Perry leads the pack of candidates nationally with 23 percent, with former Massachusetts Gov. Mitt Romney at 16 percent. Former House Speaker Newt Gingrich and Minnesota Rep. Michele Bachmann tie for third with 7 percent, followed by Texas Rep. Ron Paul (5 percent) and business executive Herman Cain (5 percent). Former Ambassador and Utah Gov. Jon Huntsman and former Sen. Rick Santorum each receive 1 percent.

However, with months to go before the start of the primaries and caucuses, about one in five Republican primary voters is undecided on a candidate at this point. That is about twice as many compared to four years ago.

About one in ten said they would choose someone else, with three percent volunteering former Alaska Gov. Sarah Palin, who has not yet publicly said whether she will even run.

For comparison, at a similar stage in the campaign in 2007, former New York City Mayor Rudy Giuliani was the leading choice of Republican primary voters (at 34 percent), followed by former Tennessee Sen. Fred Thompson (23 percent). The eventual nominee, Arizona Sen. John McCain, was in third place with 16 percent, according to a CBS News poll. Romney, who is undertaking his second bid for the GOP nomination, received the support of 9 percent in that poll.
It's always worth keeping that last part in mind, but I think there are significant differences between 2011 and 2007 that make the kind of drastic lead changes we saw in the months leading up to the January 2008 Iowa Caucuses far less likely. For one thing, there are fewer candidates in the field who are realistic frontrunners this time around. It wouldn't have been much of a stretch to say in September 2007 that John McCain, or Mitt Romney, or even Mike Huckabee (who had just pulled off a strong second place finish in the Ames Straw Poll the previous August) could move further up the field under the right circumstances. The only question would have been if there was a credible path for them to do so. This time around, it seems very unlikely that voters who have now settled on Rick Perry or Mitt Romney are suddenly going to change their mind and support Michele Bachmann, Herman Cain, Ron Paul, Rick Santorum or Newt Gingrich instead. Jon Huntsman is a guy who has the kind of Romney-like resume that would theoretically make him a top tier candidate, but it's fairly obvious that 2012 just isn't going to be his year. Barring some kind of damming revelation about either one of them, which seems unlikely, or some misteps that totally dooms their campaign, the odds are that this is a Perry-Romney race all the way to the convention if necessary. Additionally, several of these candidates have already had their moment in the sun, and their poll boost, they're not going to get a second bite at the apple.
As for the idea of Sarah Palin getting into the race, there's yet more evidence that it would be nothing less than a huge electoral disaster if she did:
Palin's negative ratings have been on the rise since she left her job as governor of Alaska in 2009. Sixty-two percent of voters now say they hold an unfavorable view of the 2008 Republican vice presidential nominee — the highest since 2008 when CBS News began asking about her. Only 20 percent view her favorably.

For the first time in CBS News polls, more Republicans now view Palin unfavorably (39 percent) than favorably (36 percent). Opinions are similar among Republican primary voters. Just after her convention speech in 2008, three in four Republicans viewed her favorably.

Palin's favorability among those who support the Tea Party movement has dropped a bit as well to 44 percent, but more still view her positively than negatively (32 percent).

As for Palin's political future, 71 percent of voters nationwide say they would not like to see her become a major national political figure for many years to come.
That seems like a pretty strong signal to me.
Republican's views on the issues are about what you'd expect, but there are a few surprises:
Republicans – including Tea Party Republicans – voice widespread agreement that Social Security and Medicare programs are worth the costs. It's a view widely shared by all Americans.
The idea of reducing benefits in Social Security doesn't find much favor among Republicans (only one-third would support that), or among the overall population.
While Republicans do share some of the same concerns about the long-term viability of SSI and Medicare, numbers like these are the reason that Mitt Romney is likely to continue criticizing Rick Perry's stances on Social Security. It's a concern not only for voters as a whole, which goes to the issue of electability, but to Republicans as well. Expect this one to come up again at the next debate on September 22nd.