Perry Opens Wide Lead (in Rasmussen Poll)
Do we have a new frontrunner in the race for the Republican nomination?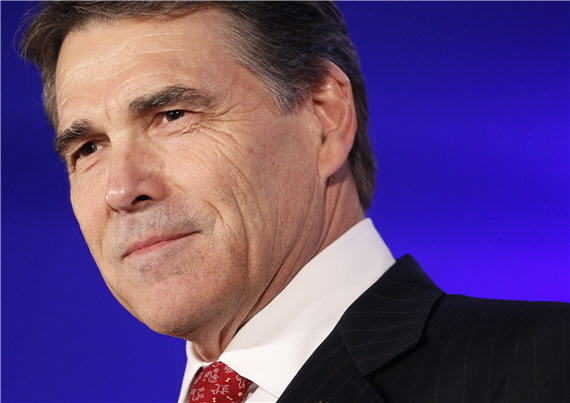 The Twitterverse is abuzz with the news that Rick Perry has now emerged as the frontrunner. Trouble is, it's the Rasmussen poll.
GOP Primary: Perry 29%, Romney 18%, Bachmann 13%

Texas Governor Rick Perry, the new face in the race for the 2012 Republican presidential nomination, has jumped to a double-digit lead over Mitt Romney and Michele Bachmann with the other announced candidates trailing even further behind.

The latest Rasmussen Reports national telephone survey of Likely Republican Primary voters, taken Monday night, finds Perry with 29% support. Romney, the former Massachusetts governor who ran unsuccessfully for the GOP presidential nomination in 2008, earns 18% of the vote, while Bachmann, the Minnesota congresswoman who won the high-profile Ames Straw Poll in Iowa on Saturday, picks up 13%.

Texas Congressman Ron Paul, who was a close second to Bachmann on Saturday, has the support of nine percent (9%) of Likely Primary Voters, followed by Georgia businessman Herman Cain at six percent (6%) and former House Speaker Newt Gingrich with five percent (5%). Rick Santorum, former U.S. senator from Pennsylvania, and ex-Utah Governor Jon Huntsman each get one percent (1%) support, while Michigan Congressman Thaddeus McCotter comes in statistically at zero.
Now, these results are quite plausible. The whole race thus far has been about finding an alternative–any alternative–to Mitt Romney. And, if Perry stops saying really stupid things–a big If, to be sure–he makes as much sense as anyone else.
Still, it's worth noting that Perry just jumped into the race officially and this is the only poll since that happened.

Further, as has been discussed here and elsewhere ad nauseum, Rasmussen's reliability is, well, spotty. Nate Silver noted more than a year ago that the firm's methodology makes it an outlier.
Their polls are in the field for only one night, leaving little or no time for callbacks. They do not call cellphones. They do not appear to use within-household selection procedures. In addition, their polls use an automated script rather than a live interviewer, which tends to be associated with a lower response rate and which might exacerbate these problems. So Rasmussen's raw data is likely dirtier than most.

But pollsters then have a second line of defense: they can massage their data by weighting it to known demographics, such as age, race, gender, or geographic location. This can work pretty well, but it is not foolproof; it requires some finesse. Moreover, some differences in response rates may not intersect neatly with these broad demographic categories. Pew has found, for instance, that those people who rely primarily or exclusively on cellphones tend to be somewhat more liberal, even after other demographic considerations are accounted for.

The bottom line is this: the sample included in Rasmussen's polling is increasingly out of balance with that observed by almost all other pollsters. This appears to create a substantial house effect, irrespective of whether Rasmussen subsequently applies a likely voter screen.
Rasmussen defenders are quick to point out that they had great success at calling past voting outcomes. But this was in elections where oversampling of Republicans was a bonus.
We should be cautious in reading too much into any one poll and especially this one.
UPDATE: See also Doug's post "Rasmussen: Perry 29% Romney 18% Bachmann 13%"