Perry Pushes Bachmann Into Fourth Place In New Poll
Rick Perry's entry into the race could quickly turn the 2012 GOP fight into a two man race.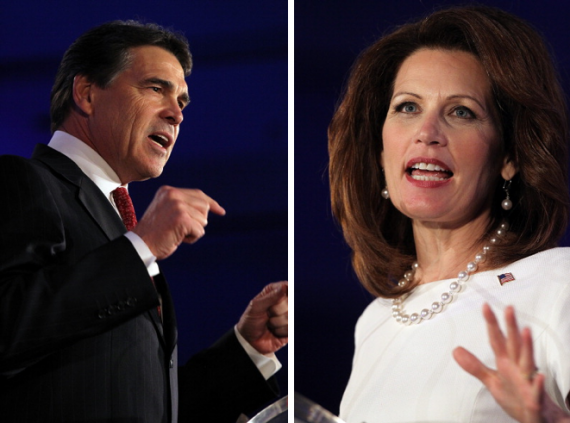 A new CNN/Opinion Research Center poll seems to confirm that Rick Perry entering the race, which now seems certain, would be bad news for Michele Bachmann:
As Rick Perry moves closer and closer to a run for the White House, a new national survey indicates that the longtime Texas governor is close to the top of the pack in the hunt for the Republican presidential nomination.

According to a CNN/ORC International poll, 15 percent of Republicans and independents who lean towards the GOP pick Perry as their first choice for their party's nomination, just two points behind former Massachusetts Gov. Mitt Romney, who's making his second bid for the White House. Romney's two point margin over Perry is within the survey's sampling error.

(….)

The survey indicates that former New York City Mayor Rudy Giuliani, former Alaska Gov. Sarah Palin, and Rep. Ron Paul of Texas, who is making his third bid for the White House, are at 12 percent apiece. While both Giuliani, who ran for the presidency four years ago, and Palin, the Republican vice presidential nominee in 2008, have flirted with bids, neither has taken concrete steps towards launching a campaign.

According to the poll, Rep. Michele Bachmann of Minnesota has the support of seven percent, with former House Speaker Newt Gingrich at five percent, both former Godfather's Pizza CEO and radio talk show host Herman Cain and former Utah Gov. and former U.S. Ambassador to China Jon Huntsman at four percent, former Minnesota Gov. Tim Pawlenty and former Sen. Rick Santorum of Pennsylvania at two percent. Former New Mexico Gov. Gary Johnson and Rep. Thad McCotter of Michigan both register at less than one half of one percent.

If the choices are pared down to exclude Giuliani and Palin, Romney remains at the top of the list, with 23 percent, followed by Perry at 18 percent and Paul at 14 percent. The survey indicates Bachmann at nine percent, Gingrich one point back, Cain and Huntsman at five percent, Pawlenty and Santorum at three percent and Johnson and McCotter both registering at less than one half of one percent.
The highlighted results are the ones to pay attention to, I think, since that's how the field is likely to pan out in the end. As I've suspected for a long time, Perry entering the race pretty much puts the death knell in the campaigns of candidates like Pawlenty, Santorum, and Cain, all of whom appeal to the same combination of Tea Party and socially conservative voters that seem to be rallying around Perry.
What's interesting, and somewhat unexpected, is the extent to which Perry's entrance into the race  has impacted Bachmann, at least in this poll. She goes from an solid 2nd place against Romney, to 4th behind Ron Paul. Perhaps this is an indication of the Tea Party crowd rallying around a candidate that seems to have a much better chance of winning not only the GOP nomination, but the General Election. Whether this latter part is true remains to be seen, of course. In the CNN poll, Perry and Bachmann both perform about the same in a head-to-head match-up against the President. In fact, the only actual or prospective candidate who beats Obama in a head-to-head race is Rudy Giuliani, and he has no chance of winning the GOP nomination. Even Romney only manages to tie the President.
I'm not sure what to make of the fact that Ron Paul is at 14%. It seems entirely unlikely that he'd win a primary this time around, much less the nomination. Nonetheless stranger things have happened, especially in Iowa. I wouldn't be surprised to see a better-than-expected Paul performance at Saturday's Ames Straw Poll, for example, and the caucuses themselves are well suited to campaign filled with energetic supporters. Nonetheless, I cannot conceive that Paul is really a factor in this race.
If this poll is any guide, then the entry of Rick Perry in this race could quickly turn the GOP race into a two man race. That's bad news for everyone who wanted to be seen as the anti-Romney, and it may not be good news for Romney either.