Perry Will Debate After All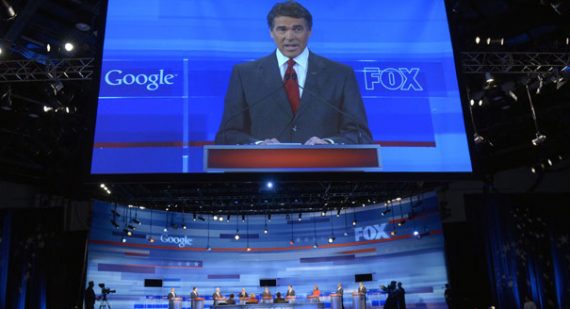 After hints last week that he might skip future debates, Rick Perry's campaign said yesterday that he'd be showing up for future debates after all:
Three days after suggesting Rick Perry might skip some of the upcoming GOP presidential debates, his campaign confirmed he'll attend at least five more, a sign that the campaign may have recognized Perry had as much to lose as gain from a debate-dodging strategy.

Perry spokesman Ray Sullivan told the Associated Press Saturday that the Texas governor will attend the four events currently scheduled in November as well as a December debate.

Just by floating the idea that he might avoid debates, the Perry campaign raised hackles among activists in the states slated to host the upcoming events. But even setting aside the question of ruffled feathers, there was always a strategic reason to show up: In no other way can a candidate — especially one like Perry who is trailing front-runners Mitt Romney and Herman Cain in national and early-state polls — reframe the campaign discussion as Perry did last week in Las Vegas.

Perry spokesman Mark Miner touched off the debate debate Wednesday when he told POLITICO the campaign wouldn't commit to participating in any forums after the one Nov. 9 in Michigan. Officially, that's also the position of Mitt Romney's campaign despite his string of strong performances.

But the universe of debates Perry or any other candidate might have logically skipped was small. After the Michigan debate that both Perry and Romney committed to attend, all but two of the nine scheduled debates before Florida's Jan. 31 primary are in early-nominating states. Candidates who skip a debate in Iowa, New Hampshire, South Carolina or Florida do so at their own risk.

"If they skip the one here, they're going to have a problem with South Carolina," South Carolina GOP Chairman Chad Connelly told POLITICO. "If somebody were to skip this, this is a CBS national network debate, I just don't think it would be a good idea for them to skip it. A debate in D.C. or a debate elsewhere, maybe. But not here."

Miner had reiterated Thursday that debates, and the preparation for them, take time away from important retail politics.

"We'll look at each debate and make an appropriate decision," Miner said. "We'll look at each one as part of the many components of the campaign and whether we are using the time efficiently and reaching voters and talking to them effectively."
Not surprising, really. As I noted when this first came up, skipping debates would probably end up hurting Perry more than helping because it would be a subtle recognition of what everyone believes to be his greatest weakness. For better or worse, Perry will continue to debate, and I'm betting he doesn't skip a single one of them.