Perry's Social Security Talk Makes Florida GOP Nervous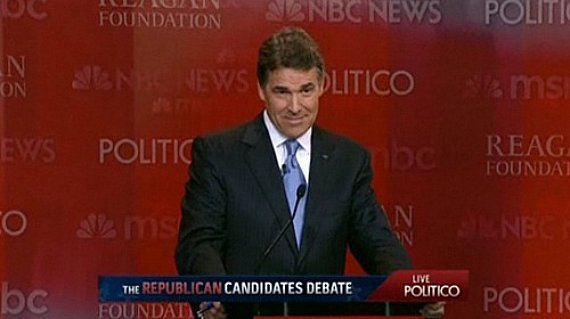 It may be resonating with some elements of the Tea Party movement, but Rick Perry's rhetoric has Florida Republicans concerned:
ORLANDO -Florida Republicans want the GOP presidential field to tread lightly on the subjects of Social Security and Medicare. Very, very lightly.

Even in senior-heavy Florida, there is a willingness this cycle to talk about finally reforming entitlement programs. But there are also growing worries about the way that debate is taking shape in the 2012 elections-and fears it could have devastating consequences for Republicans in a battleground state where roughly one in five residents are over age 65.

More than the state's 29 electoral votes are at stake: There's also a U.S. Senate seat and a handful of House districts that could determine the balance of power at every level of Washington.

"There is a way to talk about Social Security reform without scaring seniors and while demonstrating to younger workers that you're going to have a modern system that's going to be there for them," said Florida Agriculture Commissioner Adam Putnam. "We haven't heard it yet."

Putnam, a former Republican congressman, expressed concern about Rick Perry's criticism about the creation of Social Security in his book. He also mentioned Florida straw poll winner Herman Cain's repeated references to switching over to the "Chilean model" of entitlement programs.

"Claiming that Social Security is unconstitutional is a way bigger problem than saying it's a Ponzi scheme," Putnam said. "And I don't think the average American aspires to the Chilean standard of living."

(…)

Adam Hasner, a former Florida House majority leader who is also challenging Nelson, said neither of his party's top presidential candidates had struck the right chord on entitlements – or offered the kind of policy solutions that would give voters faith in the GOP.

"They're both right and they're both wrong," Hasner said of Perry and Romney. "Can you get people's attention to show them that something's wrong by calling [Social Security] a Ponzi scheme? Yes, but then you have to share with them what your answer is."
As I've said before, that was Perry's biggest mistake at the beginning. Rather than doubling down on the "Ponzi Scheme" and "unconstitutional" rhetoric, he should have been talking about what his solutions to the problem were. You don't have to get into a policy paper length discussion, but you do at least need to have some kind of a broad outline. Otherwise, it's very easy for your opponents to just paint you as a bomb thrower, which is exactly what has happened.