Pete Rose's Lifetime Ban Will Remain In Effect, Major League Baseball Commissioner Rules
The Commissioner of Major League Baseball has ruled that the lifetime ban issued against Pete Rose for betting on baseball will remain in effect.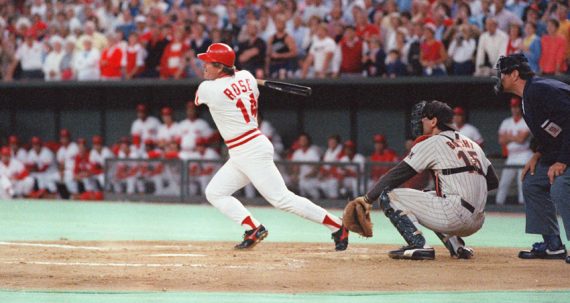 After a review of the case against him and the sanctions imposed some two decades again, Major League Baseball Commissioner Rob Manfred has ruled that the lifetime ban against Pete Rose for betting on baseball will stand:
Rob Manfred, the commissioner of Major League Baseball, has decided not to lift the permanent ban imposed on Pete Rose more than a quarter-century ago, meaning the player with more hits than anyone else in the sport's history will continue to be kept out of the Hall of Fame.

The decision by Mr. Manfred, who succeeded Bud Selig as commissioner last January, was announced on Monday after The New York Times reported that the ban would be kept intact.

Mr. Manfred had planned to inform Mr. Rose of his decision on Thursday. But after learning that The Times was about to publish an article about the decision, Mr. Manfred called Mr. Rose and told him that he would not let him back into baseball. A statement and a detailed report from Major League Baseball then followed.

Mr. Manfred's decision comes less than three months after he met with Mr. Rose, 74, at Major League Baseball's headquarters on Park Avenue in Manhattan to discuss the ban, which was first imposed in 1989, when baseball concluded that Rose had bet on baseball games while managing the Cincinnati Reds and that some of the bets had been placed on his own team.

In the report, which was released on Monday and accompanied his decision to uphold the ban, Mr. Manfred said Mr. Rose informed him at the September meeting that he continues to bet on baseball, which he can legally do in Las Vegas, where he lives.

That disclosure clearly concerned Mr. Manfred, as did what he described as Mr. Rose's inability, at the meeting, to admit that he not only bet on games as a manager but also as a player.

"In short," Mr. Manfred concluded in the report, "Mr. Rose has not presented credible evidence of a reconfigured life either by an honest acceptance by him of his wrongdoing … or by a rigorous, self-aware and sustained program of avoidance by him of all the cirucmstances that led to his permanent ineligibility in 1989."

There was no immediate reaction from Mr. Rose in the wake of Mr. Manfred's decision. But in an interview earlier this month with a television station in Cincinnati, Mr. Rose did address his chances for reinstatement and how he thought his meeting with Mr. Manfred had gone.

"You don't know which way to read anything," he said in the interview, with WCPO. "All I knew is, I was truthful to him, and he asked a lot of questions, and I had a lot of answers. We got along good, I thought."

When Mr. Rose was first barred from the sport, he insisted he had not bet on baseball, although in accepting the ban he implicitly acknowledged wrongdoing on his part.

In the years that followed, Mr. Rose continued to deny he had wagered on baseball. But in a 2004 autobiography, he finally admitted to doing just that and to betting on the Reds as well, although he insisted that he had never bet on his own team to lose.

Other evidence emerged over time — including some cited by Mr. Manfred in his report — that pointed to Mr. Rose's betting on baseball not just as a manager but also as a player.

All the while, Mr. Rose, whose long playing career included 4,256 base hits, three World Series championships, three batting titles and 17 selections to the All-Star Game, never gave up hope that the ban would eventually be lifted, allowing him to appear on a Hall of Fame ballot.

He first applied for reinstatement in 1992, just three years after being barred, but Fay Vincent, who was then baseball's commissioner, did not act on the request. In 1997, Mr. Rose tried again, with the application this time going to Mr. Selig, Mr. Vincent's successor. But Mr. Selig was not any more inclined to allow Mr. Rose back into baseball than Mr. Vincent was.

Mr. Rose, after all, had violated one of baseball's basic tenets — that any player, coach, manager or team executive who bets on the sport is threatening the game's integrity. In addition, Mr. Rose, in retirement, had often resorted to the headfirst, pugnacious style he famously displayed as a player, not always seeming contrite about what he had done wrong.
When Manfred took over as Major League Baseball Commissioner at the start of the year, there were at least some sign that Rose's ban from baseball could be lessened, especially since Manfred said that he would revisit the case even though his two immediate predecessors as Commissioners had rejected Rose's efforts to get the ban lifted and get back into the MLB's good graces. The fact that there had been some lessening over the years also led to some belief that, just perhaps, baseball was ready look more favorably on Rose's case than it had in the past. As long ago as 1999, for example, when the league marked the end of the 20th Century with the naming of the "All-Century Team," it was determined that Rose would be permitted both be eligible for the naming of members of the team and participation in the ceremony that ultimately took place before Game Two of the 1999 World Series at Turner Field in Atlanta, during which Rose received a largely very positive reception for the crowd during what amounted to one of his first appearances at at Major League park since the ban was imposed. In the years that followed, he has been allowed to participate in various anniversary activities involving the Cinncinati Reds and, this past post-season he was part of the baseball coverage on Fox Sports One, although his appearances were limited to the studio and not in the booth at any of the stadiums where games were being played. All of this suggested that, just maybe, Manfred would lift all or at least a part of the sanctions against Rose after more than a quarter century.
If there was any chance that Rose would get some leniency from Manfred, though, it likely went out the window in June when a new investigation based on previously unavailable evidence seemed to strongly indicate that Rose bet on baseball not only when he was a manager in Cincinnati, but also when he was a player. This was potentially important to Rose's case for reinstatement because, while Rose had ultimately admitted betting on the game while he was a manager, he adamantly denied, and continues to deny, that he bet on the game while he was still a player. Given the fact that baseball's rules against gambling that resulted in bribery of players to throw games, this fact, if proven true, would seem to be fatal to Rose's arguments that he deserves reinstatement, as would the fact that the evidence would seem to establish that he continues to be unable to admit the truth about his wrongdoing. As I noted at the time, if those new allegations were true, then it would be very unlikely that Manfred would agree to reinstate Rose or otherwise lessen the sanctions against him. While Manfred doesn't state specifically that the new reports were the main reason for his decision, it seems fairly clear from his letter to Rose that they didn't help and that they certainly didn't help to establish that Rose had come to acknowledge and express remorse for breaking the rules of baseball, which seemed to be one of the primary criteria that Manfred was placing on any positive decision for Rose on his part.
As I said, the fact that all of this has happened is fairly pathetic. Rose is without question one of the best players that professional baseball has ever seen, and one of the biggest stars in all of sports in the 1970s and 1980s. When the news came out that he had broken one of Major League Baseball's cardinal rules, it hit fans of the game quite hard and was the seeming beginning of a number of revelations about the game from cocaine use in the 80s to steroid use in the 90s that eroded trust in the game that took years for many fans to get over. On some level, the passage of time led many to come to the point that some level of redemption for Rose might have been acceptable, but the new revelations this year seemed to close the door on that. The announcement today that the ban will remain in place confirms that, and likely confirms that the ban will never be lifted and, if the day does come when Pete Rose's career is remembered in the Hall of Fame, it will not come while he is alive. As a baseball fan, and someone who cheered Rose on during his playing career, I'm fine with that.
Here's the report: