Peter Mondavi, Napa Valley Wine Pioneer, Dead At 101
A man who helped create a multi-billion dollar a year industry, and some mighty fine wine, has passed away.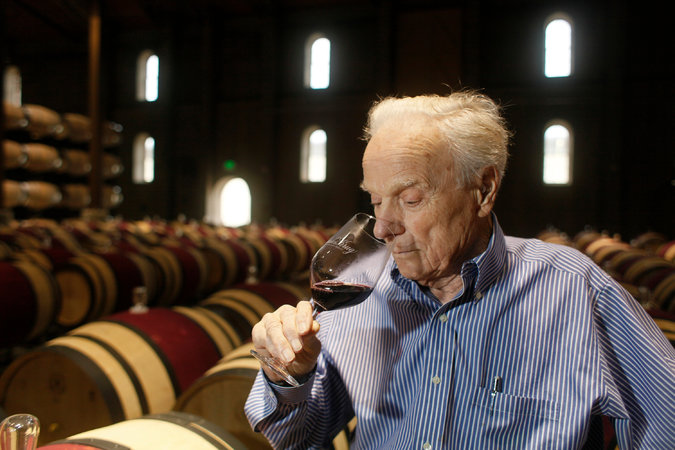 One of the men who helped turn California's Napa Valley into a worldwide haven for wine production has died at the age of 101:
Peter Mondavi Sr., who, with his brother, Robert, helped establish the Napa Valley as a premier wine-producing region before the two had a bitter falling out, died on Saturday at his home in St. Helena, Calif. He was 101.

His death was announced by the Charles Krug Winery, which he owned with members of his family.

In 1943, Peter and Robert Mondavi convinced their father, Cesare, a grape shipper, to buy a derelict vineyard and winery founded in 1861 by Charles Krug, a Prussian immigrant. The sale was completed for $75,000, and the brothers set about making quality wines that would stand apart from the cheap jug wines that defined California in the industry.

Peter Mondavi almost immediately began introducing ideas he had been experimenting with while studying oenology at the University of California, Berkeley, notably cold fermentation to produce crisp, fruity whites. The winery was one of the first to use new French oak casks for aging and to adopt the then-novel practice of vintage-dating its varietal wines. The Charles Krug Winery soon became known for its Vintage Selection cabernets, big, well-structured, elegant wines that achieved classic status.

Robert Mondavi, a charismatic marketer with grand designs for the winery, clashed repeatedly with his quieter, more conservative brother, who was in charge of technical production. Peter Mondavi acknowledged growing resentful of his older brother's starring role and demanding ways.

"I devoted my whole life to this business, for better or worse, but I couldn't satisfy him," Mr. Mondavi told Julia Flynn Siler, the author of "The House of Mondavi: The Rise and Fall of an American Wine Dynasty" (2008). "He always criticized."

In 1965, after the brothers came to blows, Robert was forced out of the business. He went on to create history six miles down the road at the Robert Mondavi Winery, which has been credited with reviving the Napa Valley wine industry on the way to becoming a half-billion-dollar-a-year business. He died in 2008.

Peter remained in charge of Charles Krug, whose fortunes, in terms of both money and prestige, fluctuated over the decades. For the most part, it was known as a midrange winery, producing modestly priced table wines under the CK Mondavi label.

Under Mr. Mondavi, Krug, after some lackluster years, focused on Bordeaux reds and cut back overall production, leading to a comeback in the winery's reputation in the late 1990s. In the early 2000s, the winery embarked on an ambitious program of replanting and modernizing. With holdings of 850 acres, Charles Krug is one of the largest landowners in the Napa Valley.

Peter Rudolph Mondavi was born on Nov. 8, 1914, in Virginia, Minn. His father and his mother, Rosa, had both emigrated from the Marches region of central Italy. After working in the iron mines, Cesare Mondavi opened a grocery store and began buying grapes for local Italians to make wine. In 1922 he moved his family to Lodi, in California's Central Valley, where he founded C. Mondavi and Sons to ship grapes.

As boys, the brothers nailed together shipping crates for their father, who paid them $1.25 for every 100 crates. "I guess you could say we were involved in grapes from Day 1," Mr. Mondavi told The Napa Valley Register in 2013. The brothers earned so much money that they were able to bail their father out when Krug experienced a financial crisis in the late 1940s.

After graduating with a degree in economics from Stanford University in 1938, Mr. Mondavi worked briefly as a chemist at Acampo Winery and Distillery, founded by his father, before doing his graduate work in oenology at Berkeley.

He served in the Army Air Corps during World War II, stationed at a supply base in England, and returned to the family winery in 1946.

The bitter dispute with his brother led to a protracted legal struggle that nearly brought about the dissolution of Charles Krug in the late 1970s, after a judge agreed with Robert Mondavi that he had been forced out of the business unfairly. In a last-minute settlement, the winery ceded valuable acres to Robert Mondavi and paid him $4 million for his interest in the business.

Although the debt burden crippled the winery for years, it managed to survive a wave of corporate takeovers that eventually engulfed Robert Mondavi Winery, which was acquired by Constellation Brands in 2004. Peter Mondavi once said that keeping Charles Krug Winery in the family was his chief accomplishment.

He remained active in the business until last year, although he turned over the day-to-day operations to his two sons, Marc and Peter Jr.
Of the two Mondavi brothers, Robert probably deserves more credit for leading the effort to not only turn the Napa Valley into the center of American wine production that it has become today. Robert was also much more interested in marketing wine to the general public and expanding the market far beyond where it was in the 1960s when the two brothers went their separate ways, as well as for producing wines that were generally better regarded by critics and consumers.
Despite those caveats, one cannot discount the role that both Mondavi brothers played in turning the hills of the Napa Valley north of San Francisco into a wine producing powerhouse that rivals the great wine regions of France. Along with other pioneers such as Georges de Latour, they helped rescue an industry that had started out in the late 19th Century only to find itself nearly destroyed by Prohibition and the Great Depression and turn the region into both a source of great wine, but also a tourist destination that seems to be adding wineries on annual basis. Because of them, American wines in general and California wines in particular have become more respected on an international stage where, typically, the prizes awarded in the industry would typically go to French, Italian, or Spanish wines as a matter of course and American wines were viewed as inferior. Today, it's not uncommon for wines from the United States to win international competitions against far better established European labels, including not only wines from California but also products from the increasingly active wine-producing regions of Washington State and Virginia
So, tonight, I'll raise a toast to Peter Mondavi. And so should you.