Peter Principle Politics
Or, perhaps, the Perry Princple?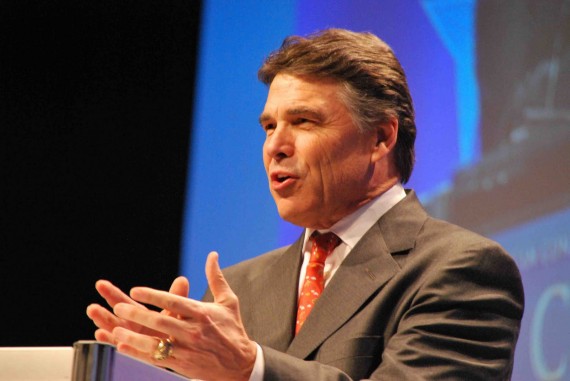 Rick Perry's "brain freeze" moment is not, I would argue, about stupidity or debate anxiety, but about the fact that he is running for job advancement.  By this I mean that Perry has been enticed to run for the presidency because of a combination of ego (many in has party practically begged him to run) and the fact that after being governor of the second largest state in the union, what else is there for him to do?  And I am not being flippant about the later point.
Consider: ambitious, driven people are typically looking for advancement within their careers.  His career is politics (and I do not say that to be derogatory, but to state a plain fact).  He has managed to make it to the pinnacle of that career within his state, and indeed has solidified a place in the history of the state by the length of his tenure in office.  To move to the Senate, which I am sure he could do if he wanted, would be a lateral move at best, and arguably a step down (if anything there are two Senators from Texas, but only one Governor).   Further, his career has been on the executive side of the ledger, and so what is the next logical step?  Well, that would be 1600 Pennsylvania Avenue.
Of course, such behavior is not unique to Perry, although it does not explain all candidates.  Ron Paul, for example, clearly has a philosophy that he believes should be applied to government. Ditto Newt Gingrich.  Candidates like Mitt Romney and Jon Hunstsman have a combination of career advancement and belief that they have the requisite training and experience to advance to the next level (with philosophical and technocratic motivations thrown in).  Others, like Rick Santorum, appear to looking for a hobby, but I digress.
Back to Perry:  I think that the way he grapples for themes upon which to campaign, and his general career path underscore my point.  In regards to themes, take Perry's flat tax proposal.  He didn't come to the campaign with this idea.  It wasn't something that emerged from a philosophical core.  Rather, it appears as if his campaign felt like they needed a counterpoint to Cain's 9-9-9 plan and so they developed the multiple choice flat tax.  He even did a rerun of Steve Forbes' post card shtick.  This is not the stuff of deep thought.
It is the same thing with the "Commerce, Education, and oops" bit:  he knows that a) limited government/attacking Washington is in vogue with the GOP selectorate (and it fits with his general campaign theme) and, b) that True Conservatives™ have been pushing for cutting three cabinet level departments since the late 1970s.  Does he really have any conviction regarding these cuts?  The evidence suggests not.  Does he even know what these departments do?  I suspect he does only in a vague sense.
Did he have his "brain freeze" because he is dumb?  No, but rather because was speaking from prepared comments about which he has no real conviction or has likely given much thought.  It is easy to forget vapid talking points (and he has demonstrated on multiple occasions) but one typically does not forget issues about which one has spent a great deal of time pondering.
Beyond the clear attempt at making up positions as he goes, consider Perry's career in Texas politics. When it was expedient (if not required) to be a Democrat in Texas politics, Perry was a Democrat. Once it was clearly the case that being a Republican was more advantageous, he became a Republican. Then, after an election that seemed to indicate he was in serious trouble, he hung in there and found his way, at least rhetorically, into the Tea Party camp.  It is not unreasonable to argue that most, if not all, of these moves were about finding the best path to career advancement as opposed to being about principles.
I will conclude with two observations.
First, Perry's performance to date is a clear illustration of the Peter Principle:  he has risen to the level of his incompetence and should not be seriously considered for further advancement.
Second, and more importantly, while it is to be expected that all presidential candidates run for office out of motivations linked to personal ambition and career advancement, I always find it problematic when there is no evidence of a serious reflection of the issues as being part of the motivational mix.  Candidates who discover policy along the way (e.g., Perry's tax plan) and/or who rely on ideology-tested slogan (e.g., let's close Commerce, Education, and Energy/oops!) raise red flags and really should be disqualifying (and by that, I mean, voters should withhold votes).