Peyton Manning Chooses Denver
Tebow on the block.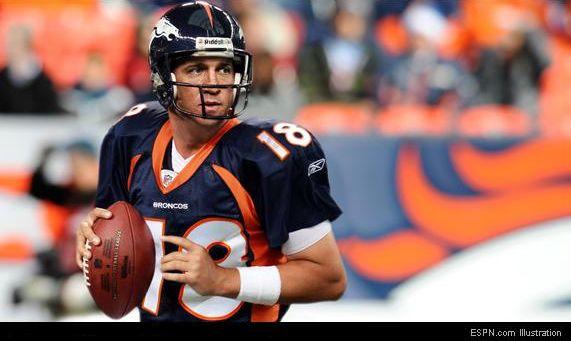 The news of the world was set aside for a good part of the day as word came that Peyton Manning has decided to join the Denver Broncos (barring any unexpected problems negotiating his contract). Tim Tebow will go on the trading block (I agree with the general consensus that Jacksonville makes sense as a destination for Tebow, but only in the short term; I think the Jaguars franchise will move to Los Angeles sooner rather than later).
The number 18 is one of only three Denver has retired. It was worn by the team's first starting QB Frank Tripucka (originally brought to Denver at its founding as an assistant coach, he became the first pro QB to throw for 3,000 yards in a season and the first to throw a TD pass in the AFL). That's not a problem, though. As Steve Largent once did for Jerry Rice, Tripucka has already said he'd be happy for his number to pull a Brett Favre if Peyton wants to wear it.
Image by ESPN