Peyton Manning To Announce Retirement, Reports Say
If reports today are accurate, one of the great N.F.L. careers will come to an end this week.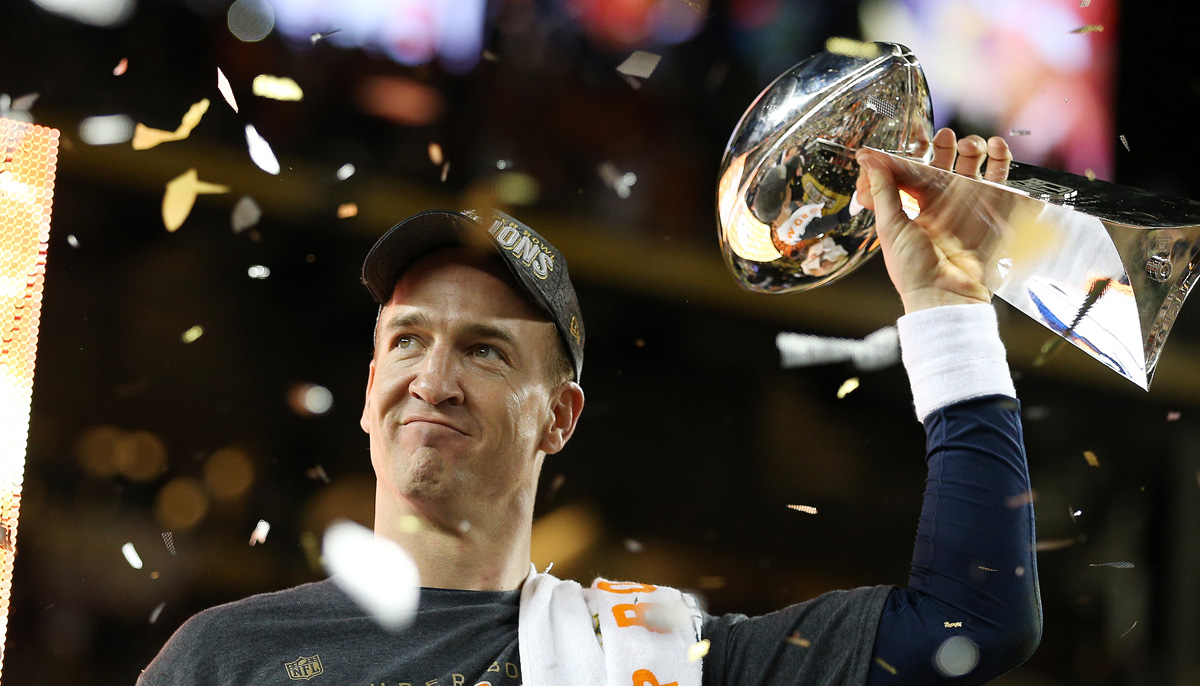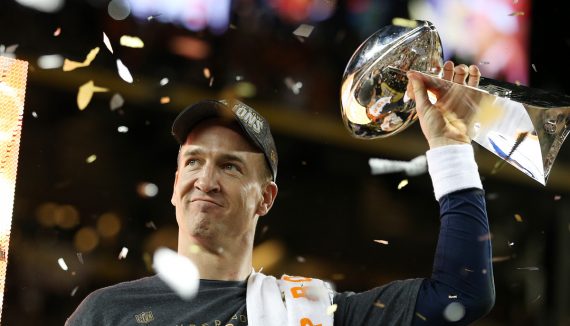 The Denver Post is reporting that Peyton Manning, one of the greatest N.F.L. Quarterbacks to play the game, will announce that the just-concluded 2015 season was his last:
His Bronc riding days are over; the last rodeo is done.

Peyton Manning is saying goodbye; it's been lots of fun.

According to two sources, Manning will acknowledge his decision by the end of this week.

These sources also say that Peyton, who will turn 40 on March 24, is leaving the Broncos and retiring from the game he has played competitively for 29 years.

It's implausible that Manning would opt to sign with another team for one season.

Manning's final play for the Broncos was a handoff to C.J. Anderson for 5 yards with 1:22 remaining in Super Bowl 50. Manning's first play with Denver was a handoff to Willis McGahee in the opening moments of a September game in 2012.

In between, Manning threw for 151 touchdowns and 19,062 yards. He ran for one touchdown. He won 76.9 percent of the games he started with the Broncos, compiling an overall 50-15 record. He came off the bench to lead the Broncos to one other victory in his final regular-season game.

With Manning, the Broncos won four consecutive AFC West titles. The Broncos played in two Super Bowls, winning one.

Also astounding was Manning's record as a starter against division teams. He was 20-2, losing only to San Diego at home in 2013 and to Kansas City in his final start in 2015, when he was suffering from plantar fasciitis and suffering through his worst game. He never lost a division game on the road.

Manning produced 10 comeback victories and 11 fourth-quarter, game-winning drives. All pleased his boss — The Comeback King.

In John Elway's last four seasons, he had a combined record of 51-17 (75 percent) and won two Super Bowls. He could have won another in the 1996 season. Manning perhaps could have won another in his first season in Denver.

Elway finished his career as the all-time leader in regular-season victories. Manning is No. 1 in combined regular-season and postseason victories with 200. Elway was the oldest quarterback (38) to win a Super Bowl — until Manning replaced him at 39.

Both must be placed in the top tier of all-time quarterbacks, and probably in the first five.

Manning's achievements, coming after overcoming four neck surgeries and with a new franchise, are more than everyone should have expected. Same for Elway, who overcame three Super Bowl defeats and a torn biceps. The two No. 1 picks, originally property of the Colts, made Colorado proud.

There have been three parades.
While neither Manning nor the Broncos have confirmed these reports, the idea of Manning retirement at the end of this season have been floating around since at least October when Manning started to falter and saw his starting position taken over by Broncos backup Quarterback Brock Osweiler, who played to mixed reviews until Manning returned from a foot injury in December and ended up leading the Broncos to a Super Bowl victory just two years after a humbling loss to Seattle in Super Bowl XLVIII. Even with that success, though, all of the signs pointed to Manning calling it quits at the end of the season regardless of whether that meant on the heals of another Super Bowl loss or something else. For one thing, next season would be Manning's last under the contract he signed with the Broncos if both sides chose to exercise the option for a final year built into the deal. That would be problematic for Denver, though, since it would mean spending another $19 million on a Quarterback who was showing the signs of his age even at the end of the 2014 season and whose history of injury suggested playing at the age of 40 may not be advisable to begin with. At the same time, the Broncos would need to find a way to keep Osweiler who is obviously eager to step out of Manning's spotlight and prove that he can be a starter himself, but who may not be willing to sign a new contract if it meant sitting on the sidelines for another year as Peyton's understudy. When the Broncos made it to Super Bowl 50, though, and even more so after they won, many analysts believed that Manning would see this as the appropriate opportunity to end his career on a high note. Indeed, when the Broncos defeated the Patriots to win the AFC Championship Game in January, a reporters microphone picked up Manning seemingly acknowledging that the end might be near:
More evidence mounts that Super Bowl 50 will be Peyton Manning's last game in the NFL.

As NFL Network cameras caught Manning and Bill Belichick embracing after the AFC Championship Game, the quarterback acknowledges it might be the last time the two battle.

"Hey, listen, this might be my last rodeo. So, it sure has been a pleasure," Manning told Belichick.

The context of the statement partly explains why both Manning and Belichick remained mum on the exchange following the contest.

Manning's phrasing is interesting, considering "last rodeo" was the exact wording Mark Kiszla of the Denver Post used earlier this month when asking Manning if this could be the end. "I'd be lying if I said I'm not thinking about that," the quarterback said at the time.
Notwithstanding the Broncos-Patriots rivalry of recent years, Manning and Belichick have reportedly long had a mutual bond of respect between rivals that goes back many years, so it's not entirely surprising that Manning would talk this way on what may well have been the last time he faced the Patriots on a football field.
In any case, assuming that this is true it would mark the end of a career unlike many others among active players with the possible exception of Manning's long time rival Tom Brady. Manning holds a number of records that are likely to stand for some time to come, and his winning of two Super Bowls for two different teams puts him in rare company among the great NFL Quarterbacks of the modern era. Obviously, when his time does come he'll be a first round pick for the Pro Football Hall of Fame and will likely be able to pick whatever future he wants from the many available to a former NFL star of his caliber.