Photo Corner: the Canon EOS RP (A Review)
Regulars beware: this is a total deviation from normal content.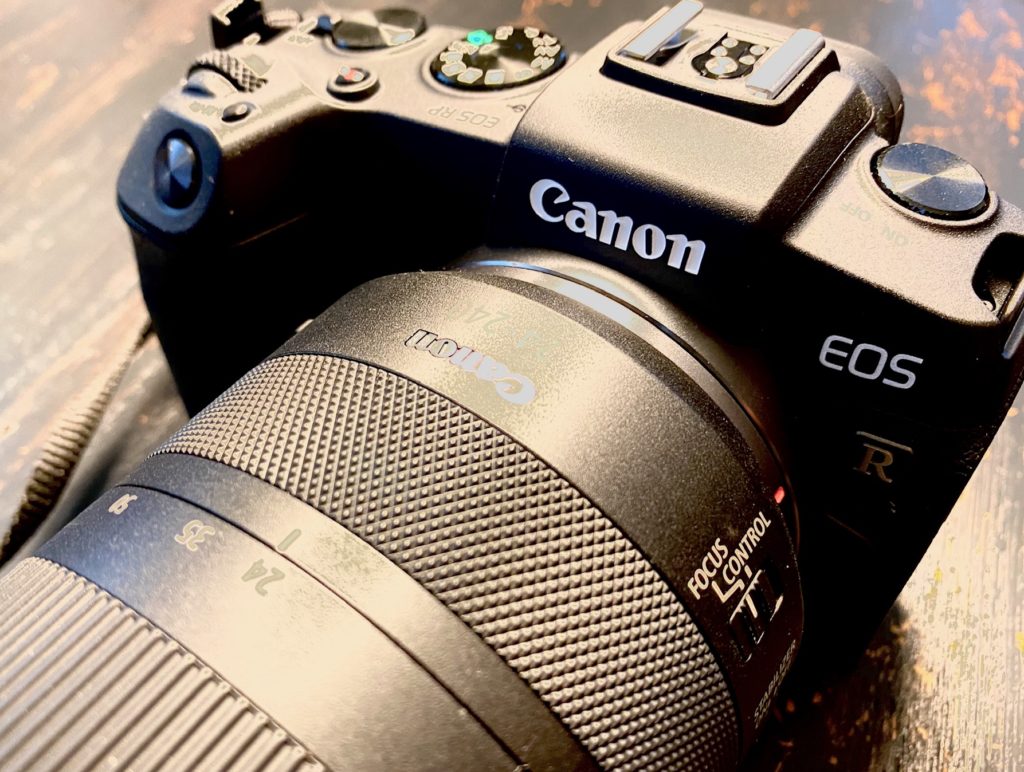 This is a deviation from any discussion, whatsoever, of politics.* It is, truth be told, the review I was looking for, but never could find, as it pertains to the Canon EOS RP, a full frame, mirrorless camera. Basically this review is for anyone out there who wanted to answer some questions about upgrading from a crop sensor DSLR to this camera. **
Specifically, I have been shooting with a Canon Rebel T4i since late 2012 and was interested in upgrading to a full frame camera, and potentially going mirrorless. Mostly I was weighing the mirrorless Canon EOS R or EOS RP or sticking with a DSLR and going with the Canon EOS 6D Mark II. I wanted to stick with Canon because I had a number of lenses with the Canon EF and EF-S mounts (both Canon and third party lenses, such as Sigma and Tokina).
This will not be a full evaluation of all the specs of the camera, which is something that one can easily find online. While there are a number of professionals out there who do such reviews, it is often the case that their work is more from the point of view of comparing new equipment to an ideal rather than than to a practical limit. Or, they look at questions a professional might want answered, rather than a hobbyist.
So, let me start with some background. I am a totally self-taught amateur. I started taking my own pictures in middle school and I think my first camera that I owned was a Canon Sure Shot back in High School. I bought a Minolta SLR in college/grad school (in the later 80s/early 90s before digital) and flirted with landscape and macro photography. I had no idea what I was doing and life took over and I did not advance my knowledge one iota. I got into digital photography (using point-and-shoots) when I first had children. Shooting soccer action led to my first DSLR, a Canon Rebel XTi in 2008. I upgraded to the T4i in 2012.
One can peruse my photos here (all the way back to the point-and-shoot days, in fact).
Is the RP a Good Upgrade Option?
In answer to the basic question: is the EOS RP a worthy upgrade to the T4i? (as opposed to how it compares to mirrorless Sonys or to full frame Canon DSLRs, both of which is the kind of thing that most reviews focus on), the answer to me has been "yes"!
The main gripes I saw online about the RP were either that the Sony mirrorless cameras were better or complaints about the video capacity (there are some features of the Sony I can see are better, but not enough to invest in all new lenses). I would note that the firmware update for the RP (version 1.4) substantially improves the autofocus capabilities (which even without the update were light years ahead of my T4i) and upgrades the video capabilities (I don't take a lot of video, so that was largely a non-issue for me).
One Shortcoming: Shooting Action
The only shortcoming of the camera, of which I was aware when I purchased it, is that it cannot take as many frames per second when shooting action. If I were still regularly shooting soccer games I almost certainly would have gone with the 6D Mark II. One can shoot action with the RP, but even now if wanted to shoot a lot of motion, I would pull out the 4Ti, which I may keep around for just such an occasion.
To me, that is the only major shortcoming. A more minor one is that it lacks the protection for the sensor when you change lenses (a feature of the more expensive EOS R). While I would like to have that feature, the increased cost of the R was not worth it to me (nor were any of the minor improvements that the R has, such as a great ranger of shutter speeds).
Having discussed the drawbacks, here are some observations about the camera in no specific order:
Size and Ergonomics.
Most reviews comment on how small the camera body is and so I was expecting a truly small body. In fact, the camera is not that much smaller than the T4i. It is smaller, but not noticeably so in my hand. The grip feels almost identical and the shooting experience is pretty much the same. It is a tad lighter and a has a little less bulk than the T4i.
AF Points.
The ability to pick very specific autofocus point is amazing–and a huge improvement over the T4i (and the 6D Mark II, for that matter). I have not fully tested all of the autofocus functions, but the RP's capabilities radically outstrip my previous camera. The ability to use the touchscreen to drag the AF point almost anywhere within frame is awesome (see the wick on the candle photo below, for example).
Using EF and EF-S Lenses (+ Using Third Party Lenses)
The EF-RF adapter works great, meaning I can use all my existing Canon glass. Further, all of my third party lenses have worked as well. Specifically, my Tokina marco 100mm f2.8 and my Sigma 70-300mm.
The Photo for Friday for this week was taken with my EF-S 10-18.
RF Lens.
All the reviews I have read about the new Canon RF lenses have been good, and part of what made me decided to go with the RP over the 6D Mark II is that the RF mount is the mount of the future for Canon and it seemed better to go ahead and make the leap for the newer technology.
In regards to RF lenses, I did buy the native RF-mount 24-240 lens, which I have been happy with to date. I will probably go with the 35mm next.
Low Light.
One of the things that appealed to me about going full frame was that I had read that they deal with low light better than crop sensor cameras. Also, the RP has a far more impressive ISO range than my T4i (radically so). Not only the ranger better, I like that the RP has more intervals. Instead of 100, 200, 400, 800, 1600, 3200, you can stop at, say, 2000.
Here is a low light photo taken at ISO 25600. While you can see the grain when you zoom in, the photo is quite sharp given the lighting:
Here is a shot taken deep in a partially completed railroad tunnel with only an iPhone for light (ISO 10000):
In Summary…
So, having had the camera for about three weeks (and having taken it on the road) I remain quite pleased with the purchase. The AF features and the ISO flexibility are both huge upgrades, especially for macro and low light shots, respectively. I also am finding the shift to the electronic viewfinder to be a bigger aid in composition than I thought was going to be the case, as I have long been a proponent of the old school optical viewfinder.
So, yes, to date I would say that the Canon EOS RP was a worthy upgrade to the Rebel 4ti.
Please feel free to leave questions below and I will answer as best I can.
---
*But if one wants to see flame wars and contentious online discussions, discussions of camera gear can often look just like a politics forum.
**Hopefully people searching for things like "RP v. Rebel" or "upgrading from a cropsensor Canon to a full frame" or something similar will find this post and will, in turn, find it useful. Likewise, for people looking for answers to questions like "does the EF adapter work with third party lenses?"