Photo From Kim Jong-il Funeral Was Photoshopped
J. David Goodman and David Furst at The New York Times Lens Blog have uncovered an interesting manipulation of at least one of the photographs released yesterday from the funeral procession of North Korean dictator Kim Jong-il:
The funeral of Kim Jong-il on Wednesday called to mind the best stage-managed Communist state productions: the falling snow, the wailing mourners, the perfectly spaced limousines and rows of chest-beating men.

So perhaps it was because the scene was so nearly impeccable that someone — an overzealous North Korean photo editor? — appears to have taken issue with an errant group of men, barely noticeable in a sweeping photograph of the procession in central Pyongyang, and removed them.

According to an analysis by The New York Times and the digital forensics expert Hany Farid of Dartmouth College, a photograph distributed by North Korea's state news agency and transmitted by the European Pressphoto Agency was altered using Photoshop to remove the men after the picture was shot.

Another photo, taken from the same high vantage over the funeral route only seconds earlier by Kyodo News, a Japanese agency, and distributed by The Associated Press, revealed the changes.
The photograph in question happens to be the one that I used in yesterday's post about the funeral: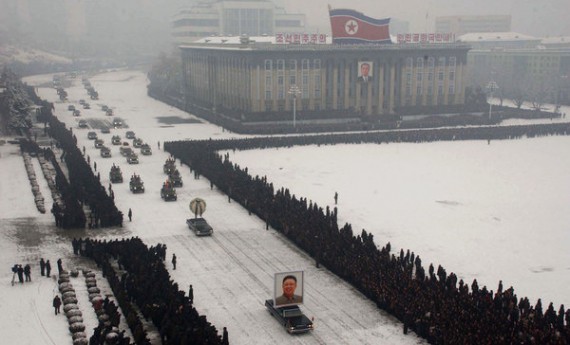 Now here's the photograph released by the North Korean government: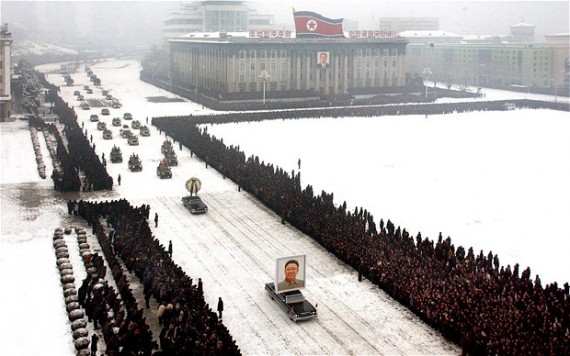 If you compare the two photos, the difference should be easy to spot, but just in case it isn't:
In the Kyodo photograph, which appeared in Wednesday's Pictures of the Day, six men are standing near a camera behind the assembled crowds. In the North Korean photo, the men — as well as the camera and their tracks in the snow — are gone.
It also appears that the government photo has been altered to make it appear that it was a brighter, less dreary, day in Pyongyang than the Japanese photo makes it seem to be. As the analysis also goes on to show, it appears that the government photo also makes it appear that there is more snow on the ground in the area where the six men were standing then there actually was. Why might they do that? Well, here's one reason:
One of the myths surrounding Kim Jong-il was that he could control the weather and state media has reported unusually cold and wild weather accompanying his death.
Weird, I know. But, this is North Korea. Weird is their business.