Picturing the Syria Strike Force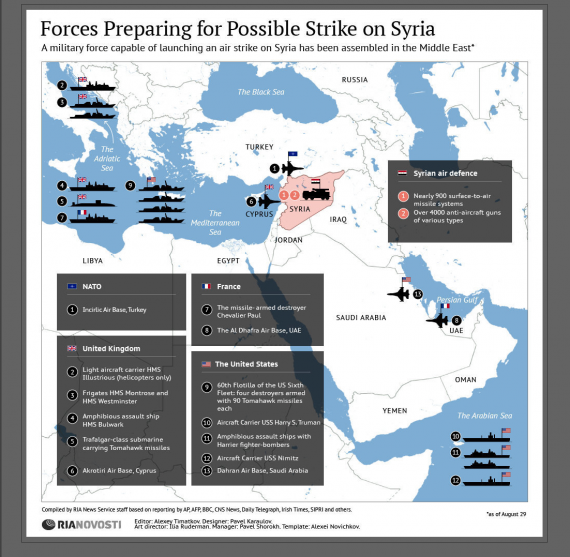 I found this infographic from RIA Novosti of the strike force that could potentially be arrayed against Syria sufficiently interesting that I thought I'd pass it along. You can click on it for a larger version. It's attached to an op-ed by Simon Saradzhyan, researcher at Harvard Kennedy School's Belfer Center. Here's a snippet:
To avoid a disastrous mission creep Obama, as President, should do everything he can to resist the pressure that neocons and interventionists in his own camp are ratcheting up – and limit the use of force in Syria..

Atrocities by the Assad regime make it unfathomable to follow the advice that is given in conflict resolution textbooks written by realists, i.e. that the quickest way to end a conflict is to side with the strongest side. That doesn't mean though that the US cannot agree to a negotiated post-Assad arrangement, in which "his" forces, such as the Alawites, get fair representation.
The Russians are consummate foreign policy realists and that's very much the "conflict resolution textbook" they've been following.