Pizza And Politics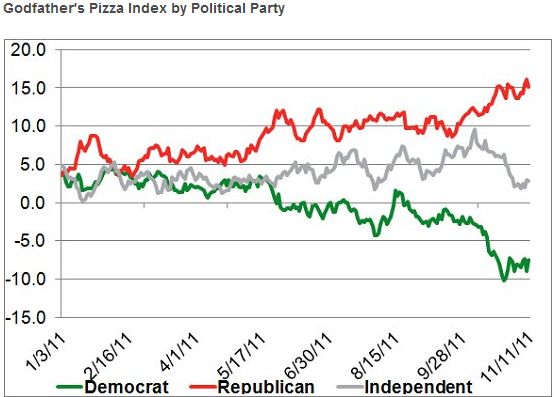 YouGov's Brand Index finds that Herman Cain's candidacy has had an impact on how people of different political stripes view Godfather's Pizza:
Although Cain has not been the CEO for Godfather's Pizza for 15 years, his prominent association to the brand, which has been replayed in the media since he began his campaign for the Republican presidential nomination, has had a definite impact on the political perception of Godfather's.

Before Cain's May announcement to run for President, Godfather's Pizza was on more or less on equal perception tracking with all three parties.

Since then, political party perception of the brand took three distinct routes: it has soared with Republicans, remained neutral for Independents, and trended mildly downward with Democrats.

When the news cycle kicked in about allegations of inappropriate behavior from Cain during his National Restaurant Association tenure, Republican perception of Godfather's Pizza was not significantly impacted, while perception among Independents and Democrats took sharp drops.
It is kind of odd, considering that Cain didn't the found the company (something that some people may mistakenly believe) and, as noted, he hasn't been part of it since the mid-90s. Nonetheless, he has touted his involvement with the firm from the beginning of his candidacy and has probably given Godfather's Pizza more media attention than it has gotten in years. Indeed, when Cain set up his tent at the Ames Straw Poll in August, one of the things his staff did was bring in a local Godfather's franchise to cater the event. With Cain's fortunes falling, one wonders what impact it will end up having on the firm's reputation as a whole.
To be honest, based on what I've heard from people who've actually eaten Godfather's pizza in the last five years or so, Cain may do less damage than the pizza itself.
H/T: Andrew Sullivan